HOC Attempts Adirondack High Peaks
---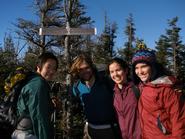 On Oct. 8-10 members of the Hamilton Outing Club (HOC) attempted their annual goal of having at least one member of the Hamilton community atop each of the Adirondack 46 peaks. The High Peaks, in Essex and Franklin counties, are the 46 Adirondack Mountains that were traditionally believed to be higher than 4,000 feet, though surveying ultimately showed that four did not reach that height.
HOC "bagged" 27 peaks this year. After rain throughout the preceding week, the weekend in the Adirondacks turned out to be beautiful, though cold. Many of the groups reported having to climb up icy rocks to get to their peaks. Another obstacle was the mud caused by the previous week's rain.
"At a few points on our trail, the path turned into a gigantic bog. Navigating these became a very daunting task, especially as we became tired throughout the course of the day," said Dave Hyman '12 who led the trip of five people who climbed Couchsachraga, Panther and Santanoni Peaks.
The Outing Club was slightly disappointed by the number of peaks members summited this year, especially because they expected to do well because of the good weather. In 2009 many of the groups had to turn around because some of the peaks had snow on them. In 2008, HOC attained their record of 41 peaks, but they have yet to bag all 46 peaks in one weekend.
HOC leaders believe that the timing of the trip -- it coincided with Hamilton's Fallcoming weekend -- and the lack of transportation available contributed to a lower than normal turnout.
The true purpose of 46 Peaks weekend, however, is to get the Hamilton community involved in the outdoors. The weekend drew in many people who typically would not go on a HOC trip.
One student climbed her first mountain ever on the 46 Peaks trip… plus two additional peaks. "It was my first time hiking in the Adirondacks so it was really exciting and it was really hard for me but I'm really glad I did it," said Adirondack newcomer Grace Lee '14.