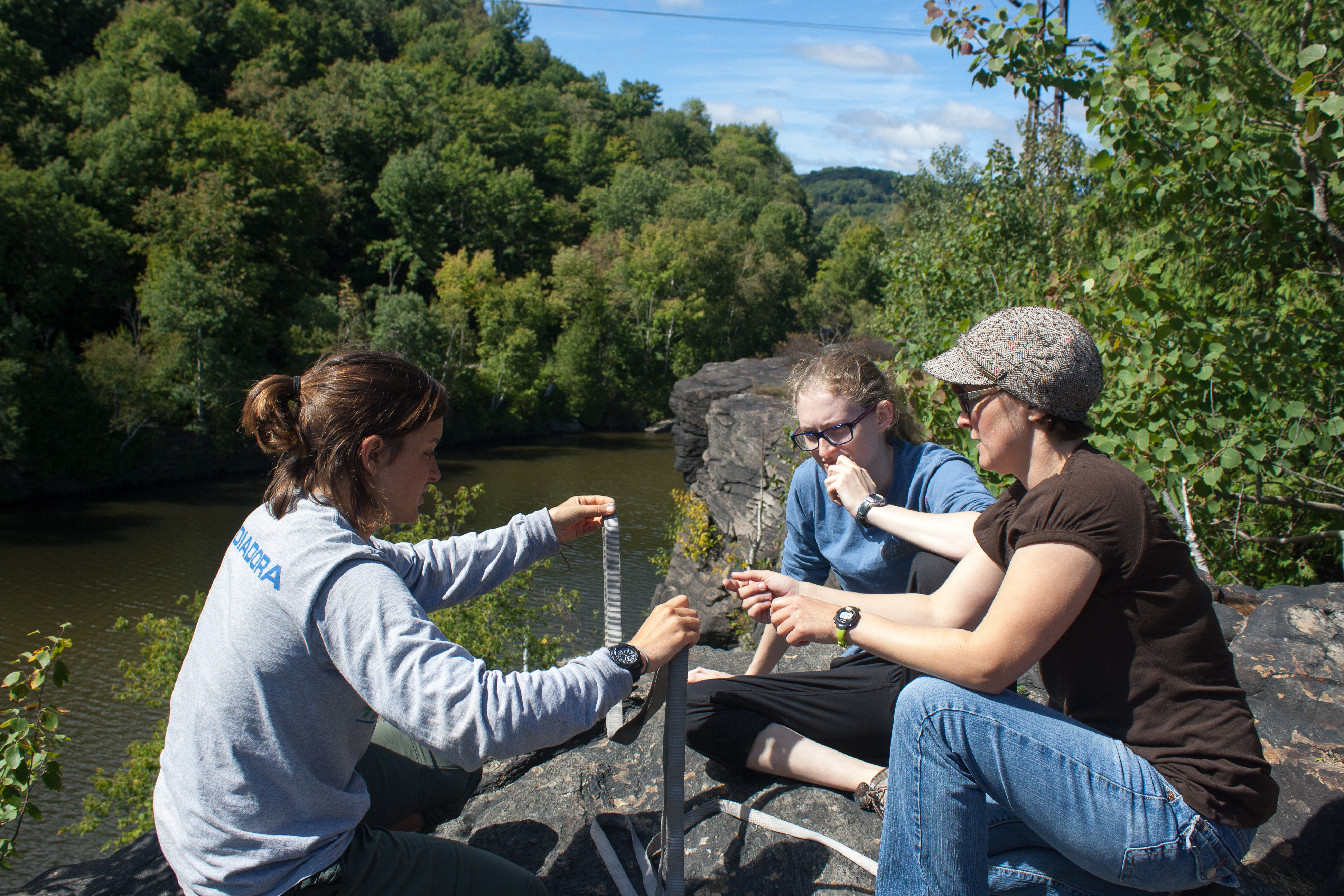 Hamilton's climbing wall is well-known among students and many climb there frequently. Less recognized is the excellent outdoor climbing that can be found just a short drive from campus in the town of Little Falls. Situated on an island in the Erie Canal, these cliffs offer everything from exciting routes perfect for introducing beginners to the sport to harder climbs that challenge even the most seasoned veteran.
While the cliffs are always there, the technical expertise to lead students on trips cannot always be found so easily. With the goal of learning the skills needed to take students climbing at Little Falls, Helen Santoro '15, Grace Murphy '16, Anne McGarvey '17 and Sam Bernstein '17 took part in a Top Rope Leader training course with Sarah Weis Jillings, assistant director of outdoor leadership on Sept. 14.
Jillings began the day by outlining the goals of the course. "We're looking to expand the amount of opportunities the outing club can offer by training students in technical skills. So what we have try to do is train dedicated student leaders in the skills they need to develop in order to lead beginner trips and also develop meaningful skills to go out on their own," she explained.
The first and most important topic covered during the course was anchor building; anchors are the means by which the rope is attached to the rock when climbing. The course began with a quick talk from Jillings on "The Importance of Being EARNEST" (EARNEST is an acronym used in climbing circles to remember the key parts of a safe and reliable anchor) before launching into practice in the safe environment of the Glen House. Once all of the students felt comfortable, the group packed the van and left for the cliff.
Once there, the group spent the rest of the day building anchors, setting up climbs, exploring the area, and picking which routes they might set up for a group of student climbers at different skill levels. The class wrapped up with the students getting a chance to climb several routes, a welcome rest from all the technical skills they were learning and practicing. By the end of the day, all of the students felt far surer of their abilities and were enthusiastic about the prospect of bringing other students out to climb. "I definitely feel confident setting anchors and finding routes at Little Falls and I'm excited to be able to take people out and outdoor climb with them," said Santoro
Following a successful class that resulted in several student leaders becoming qualified to lead climbing trips, the Outing Club is planning several excursions to Little Falls in the upcoming weeks as well more courses covering advanced climbing topics. For more information swing by the Glen House during Hamilton Outing Club (HOC) open hours, 7-9 p.m., Monday and Thursday, or sign up for the HOC email list.