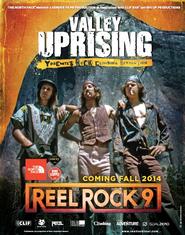 The Hamilton Outing Club hosted a screening of the Reel Rock Film Tour, a yearly showcase of films focused on rock climbing and other outdoor adventure sports. In its 9th year, this year's tour consisted of a single movie–Valley Uprising: Yosemite's Climbing Revolution, a feature-length documentary following the evolution of rock climbing and the culture surrounding it in Yosemite National Park.
Valley Uprising starts its story in the 1950s when the very first climbers began arriving in Yosemite. Climbing with primitive equipment and gaining experience as they went, these early climbers pioneered some of the boldest climbs, spending weeks at a time on the sheer granite faces of the valley.
The climbers of the early days also tended toward the counter-culture–already outsiders due to their climbing lifestyle, many also adopted the ideals of beat and hippie culture. In addition, the early years saw the beginning of a split between the climbers who believed climbing should a peaceful, meditative act and those who saw the sport as a raucous, adrenaline-fueled party of a lifestyle–a split that would continue until today.
The film then takes the viewers through the next several decades, charting the progress of the sport as new equipment, innovative techniques and driven climbers pushed the limits of what climbers believed was possible. With each new generation of climbers to enter the valley, records fell and countless new routes and new styles of climbing were developed.
Entering into the more recent years, the film depicts the rise in Yosemite of free solo climbing–where no ropes are used and falling would mean death–as well as BASE jumping–the sport of parachuting off high cliffs. Lately increased tourist and climber traffic in the park have led to new regulations governing use of the park and subsequent tensions between climbers and other adventurers and the rangers tasked with managing the park and enforcing the rules-another dynamic that the film captured. In the end, Valley Uprising managed to paint a dynamic picture of an American icon and the unique culture of those who love the park and have made it their home.
HOC has been hosting Reel Rock for several years; it will be back next fall. In the meantime, stay tuned for a showing of the Banff Mountain Film Festival World Tour this spring.