HOC Ice Climbers Ascend New Heights
---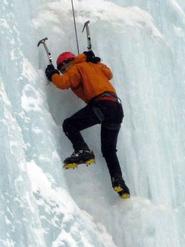 With the help of 18 metal spikes sticking out of their hands and feet, Hamilton students scaled 30-foot frozen waterfalls last weekend.

"I felt so hard-core using all the steel spikes!" said Sam Mackoff '13.

On Feb. 20 and 21, Hamilton Outdoor Leadership director Andrew Jillings led two ice climbing Hamilton Outing Club (HOC) excursions to Salmon River Falls Gorge. Fourteen students went on the trips; some had ice climbed once or twice before, but many were trying it for the first time.

Susannah Spero '13 had once been ice climbing on a glacier in Alaska. She, however, explained that, "Climbing on a giant icicle [at Salmon River Falls] was a totally different experience than climbing on a glacier. It was a lot harder but I liked the challenge."

After first setting up the ropes from the top of the gorge, the group hiked about a mile down into the gorge to where the ropes touched the ground. The snow was two feet deep and, thus, snow-shoes were necessary to reach the climbing spot.

After thorough instruction in the art of ice climbing from Jillings and a few practice ice-axe swings, the students were prepared to scale the wall. Ice climbing involved two ice axes, one in each hand, which the climber swings so that the spikes get stuck in the ice and two crampons, one for each foot, which strap onto special ice-climbing boots and have usually 8 spikes protruding from each crampon, that the climbers kick into the wall so that they can literally stand on the wall of ice. The students also used harnesses, helmets, and belay devices. All of the gear was available for rent at the Glen House.

HOC officer Ryn Steck '12 explained her preference for ice climbing over rock climbing. "I like ice climbing a lot more than rock climbing. A lot of people think it's very similar, just colder, but ice climbing is a completely different experience. You can listen to the ice cracking as you climb and feel the ice picks going into the ice as you are going up. We are so fortunate that we have this opportunity at Hamilton and everybody should try to take advantage of it."

Student author Katrina Rabeler is a graduate of Oneonta High School.