HOC Introduces Rookies to Ice Climbing
---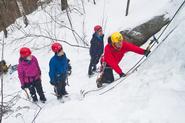 The Hamilton Outing Club (HOC) ran two introductory ice climbing trips to the Adirondacks on Feb. 22-24. The trips, led by Director of Outdoor Education Andrew Jillings, focused on teaching students the basics of climbing waterfall ice using crampons and ice tools. Students learned to use their wrists and place their picks in the right position so as to minimize the amount of energy expended. Unlike rock climbing in the summer, staying warm and conserving energy are very important to a successful ice climb.

Just getting to the ice involved a healthy dose of snowshoeing and adventure. According to Jillings beginners normally learn to climb at easier-to-access areas such as Salmon River Falls where the ice is only a few minutes from the car. Due to the recent thaw the weekend's adventurers snowshoed miles into the wilderness to find ice that was stable enough to climb.
When the normal areas were deemed too unstable HOC elected to move the trips to more remote wilderness waterfalls that were harder to access but hadn't been hit as hard by the thaw. Both trips drove deep into the Adirondack Park, the Saturday group bushwhacking into the backcountry near Crane Mountain to explore ice flows coming from a large pond on the summit while Sunday's crew explored the area below Panther Mountain near Lake Piseco to find vertical ice.
Even after long hard days outside the students' spirits were high. Many commented that they wanted to get out on the ice again soon. Outing Club leaders say plans are currently in the works for another ice climbing trip later in the semester before the season ends.