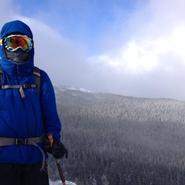 A group of six intrepid Hamilton students took to the White Mountains of New Hampshire for a variety of winter adventures and explorations, from Jan. 4 to 11.
Highlights from the trip included:
-Hiking across the frozen Lonesome Lake, a beautiful lake tucked into a saddle in the mountains.
-A hike to see several frozen waterfalls on the flank of the Presidential Range, the highest mountains in the state.
-Numerous short hikes to various vistas throughout the White Mountains.
-A day spent indoor rock climbing due to some of the lowest temperatures the state had seen in years.
-And finally, an attempt at summiting Mt. Washington, the highest peak in the Northeastern United States and a mountain that is infamous for its severe weather. The group made it two-thirds of the way up before turning around due to heavy winds and frigid temperatures.
The group also took advantage of their time in the mountains to look back on the year that had just passed. Jenna Crawford '17, one of the trip's leaders, described the excursion as "kind of New Years Resolution themed. A few nights we reflected on the previous year and looked ahead to 2015 and reminded each other of our resolutions on the trail."
Although inclement weather ranging from rain to ice to brutally cold temperatures challenged the group, everyone found a way to enjoy the time that they were able to spend outside. Said Crawford, "I think that was a theme of the week: we didn't necessarily summit anything grand, but it was the in-between moments on the trail that made the trip special."