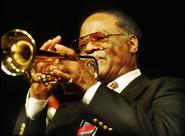 Legendary jazz trumpeter and Hamilton honorary degree recipient Clark Terry H'95 died on Feb. 21. The focus of a recent popular documentary, "Keep On Keepin' On," Terry recorded an interview about his life as a musician with another jazz great, singer Joe Williams, in 1995 for the Hamilton Fillius Jazz Archive. During the interview, Terry uses the phrase "keep on keepin' on" in reference to a particularly challenging racial incident during a tour in the South. The complete interview may be heard here, preceded by a minute of Terry playing his trumpet.
In this Jazz Backstory – Adventures in the Jazz Archive blog, Archive Director Monk Rowe reflects on Terry's life and contributions to the jazz world as well the numerous times Terry performed at Hamilton's annual Fallcoming jazz event.
The Hamilton College Fillius Jazz Archive is a collection of more than 300 interviews – audio, transcript and DVD – with jazz musicians, critics, writers, and arrangers publicly available at no cost. They include conversations with some of jazz's most well-known musicians, including, in addition to Clark Terry, Dave Brubeck, Lionel Hampton, Oscar Peterson and George Shearing as well as former members of bands led by Count Basie, Duke Ellington, Woody Herman, Artie Shaw, Benny Goodman, Stan Kenton and the Dorsey Brothers.