How I Got My First Job by Lauren Macy (Hayden) '07
---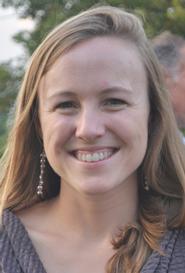 What kind of position you were looking for as a senior and the summer after you graduated? I was searching for any job in the non-profit sector and I found that most jobs were at organizations with a mission to improve education or health care. After teaching for the summer, I knew I wanted to try something different. With a doctor and nurse as parents, I decided to explore the health-related opportunities. Also, because of my recent travels and semester abroad in Samoa, I wanted to find an organization with a global mission.

I refined my search to jobs located in New England to stay close to home and family and to save money. I focused on the organization as a whole and not the specific positions that were posted. I wrote to companies that did not have an entry level position, and it resulted in interviews and connections that I still maintain.

Thinking back to your job search in the nonprofit sector, what was your experience? How difficult was it to find a job? I was looking for a job for four months. I looked on the internet for jobs every day but also just searched for organizations that I found interesting. Eventually, I took three part time jobs locally while continuing to find something more permanent. It was exhausting to have 3 different jobs with different schedules, staff, and customers. I wrote to every posting that I thought was interesting. This gave me lots of valuable practice writing cover letters and having interviews.

After several interviews and discussions with family and friends about what I wanted to do, it was through my uncle that I learned about the Institute for Healthcare Improvement (IHI). IHI is one of his clients, so he was able to give me the names of the people he works with at the organization to whom I could submit my resume. At the time I submitted my resume and cover letter, the position was not yet posted, but within a week I had an interview.

To what do you attribute your ultimate success in landing a job at IHI (skill set? Experience abroad? Cover letter?)
I think my ultimate success in landing this job was the personal connections of my uncle, the timing, my experience in customer service post-college, as well as a strong foundation of experience and education at Hamilton. Also, my passion for the mission of the organization came through in my interview.

What is your role in the organization? Describe a typical day or your major responsibilities.
I originally was hired into the Customer Service and Systems Improvement department. This small group of four recent-graduates acted as the face of the company answering calls, responding to general inquiries, and supporting enrollment for IHI's conferences and seminars. It was a great way to learn about how the company's mission, offerings, customers, and business operations. After six months, I was promoted to supervise the department.

After a year in Customer Service, I started working in the Developing Countries department as a Project Coordinator and have now held this position for a year. We have projects in Ghana, Malawi, and South Africa focused to reduce mortality in children under five, maternal mortality, and getting patients on HIV/AIDS treatment, respectively. Based in Cambridge, I work as the liaison between our colleagues working on the ground and the rest of IHI in the US/head quarters. This ranges from preparing travel logistics, buying supplies, reviewing reports, and processing financial reimbursements to managing consultants and volunteers, preparing for conferences, and keeping our communication materials up to date. I spend a third of my time supporting the work in Ghana, and I have been fortunate enough to visit the team and hospitals we are working with twice.

What advice would you have for seniors interested in nonprofit work/international development/healthcare?
There are so many non profits to choose from, especially in Boston, that focus on international development and/or health care. I would suggest calling or emailing (or both) your details to the HR departments of the organizations you are interested in even if there isn't a job listing. This will give you experience with the process, but it may also lead to an unpaid opportunity that could eventually turn into something long term and paid. Be persistent and talk to as many people as possible about your plan. Look into the universities as well. Many have international studies departments or programs that need support. This would allow you to take courses and have access to a number of different faculty/directors with lots of valuable experience- not to mention the students!

What resources should students use? What are your thoughts on idealist.org?
I loved idealist! I helped expose me to all the different kinds of organizations and jobs out there. It's important to remember to use not only the job search field, but also use the organizations search, because even if they don't have something listed, it's still an opportunity to make a connection. Idealist is great for seeing what is out there, but it is not how I ultimately got my job.

Beyond idealist, I think the best way to find a job and work through what it is that you are really looking for is to meet face-to-face with family friends, mentors, professors, etc. about the kind of job you are looking for. Each person you meet has a whole network of people who they are likely willing to introduce you to. The personal connection brings you to the front of inbox and, for really busy people, this will likely secure a phone call or meeting.

How marketable is a Hamilton grad? What skills should students acquire/promote?
Being a Hamilton graduate was extremely helpful in marketing myself. Many of the people with whom I interviewed knew of Hamilton; in fact, my first supervisor at IHI had graduated from Saint Lawrence University! I tried to highlight my leadership skills, volunteer work, and energy/excitement for the company which helped me to secure my first job out of college.