How I Got My First Job: Lindsay Mahl '09
---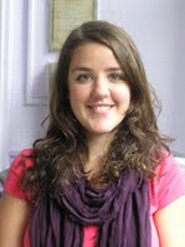 I'm not one of those people who plan in advance, always knowing what my next move is going to be. I like to think this is a good quality; however, when searching for jobs after college this can be a problematic mindset. The day after graduating from Hamilton with majors in psychology and French, I was faced with a harsh reality: I had only my dad's couch to sleep on and no idea what I wanted to do with my life. After enjoying the summer for a month or two (why should I be in a rush to start real life?) I started to panic.
Following some soul-searching and a long phone conversation with my career counselor at the Career Center, I came to the conclusion that I wanted to get a job at a non-profit. I decided to concentrate most of my job-search efforts on Idealist.org and sent at least ten applications. After not hearing any replies, I spoke with a friend who advised me that in this economy you have to be aggressive and make phone calls. So as I sent out applications, I made a list of the jobs I was most interested in and proceeded to call them one week after sending in my resume. Usually I would just get secretaries or voicemails and never hear back. Those who I did talk to didn't seem very impressed that I called.
Despite some leads that ended up going no where, I finally made headway in mid-August when I phoned a non-profit called Comprehensive Development Inc. (CDI) and actually got to speak to the Assistant Executive Director. I knew this was a rare opportunity to speak to someone in charge so I calmly explained that I was very interested in the organization and wondered if I could come in for an informational interview. To my shock she agreed to meet with me in two weeks. My career counselor helped me prepare for the informational interview but when I walked in, I quickly found that I was in the midst of an actual interview. The Assistant Executive Director explained, "You were persistent and showed you wanted to be here and I reward that kind of behavior."

After spending two hours there and filling out lots of paperwork, I was sure they loved me and would offer me a position. However, after a week of not hearing anything, I called. They told me they were still conducting interviews and wouldn't make a decision until mid-September. When I hadn't heard anything at the end of September I sent an e-mail, to which they responded that they weren't going to decide until mid-October . I pretty much concluded that it was no longer an option and thought I was going to be living on my dad's couch FOREVER.
Finally, CDI called me in again for a second interview and told me I was one of the top two candidates. A few days later I had the job. I consider this pretty close to my "dream job" because I wanted to get into some kind of counseling and that is exactly what I'm doing. I am a Student Advocate at Manhattan Comprehensive Night and Day High School, a high school for older students who couldn't graduate from their other high schools due to their age or responsibilities. I have a caseload of around 100 students and get to use my French skills every day speaking with students from Mali, Haiti, Senegal and Cote d'Ivoire. I don't work for the school, but rather for a non-profit based inside the school. I love my job, and all those weeks of persistence, patience, and even some aggression certainly paid off!