How to Win the War on Terror
---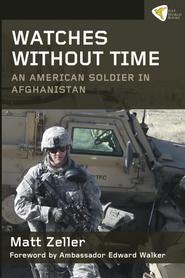 Seamlessly and loquaciously describing his experiences as an embedded combat advisor, Hamilton alumnus Matt Zeller '04 returned to the Hill on Feb. 7 to present a sobering yet inspirational recounting of his service in Afghanistan and the lessons he learned there. His presentation, which was interwoven with personal stories and pictures, cast a new light on the War on Terror for those fortunate to be in his audience.
For those who missed his presentation, Zeller chronicled his experiences overseas and since returning from service has published selections of his letters and emails in his book Watches Without Time: An American Soldier in Afghanistan.
Zeller, whose family has served in every war since the revolution, felt his call of duty while at Hamilton on September 11, 2001. After graduating from Hamilton, finishing the Reserves' Officers Training Corps (ROTC), and getting two degrees from the Maxwell School of Syracuse University, Zeller was commissioned as an officer and deployed to Afghanistan with the likelihood of casualty being 50 percent. During his time there, Zeller experienced the failings of American foreign policy first hand and subsequently realized how to truly win the war.
Zeller provided examples and illustrative stories that painted a vivid picture of his time overseas. Although American "victory" was never clearly defined in terms of Afghanistan, Zeller argues this: it starts with the children. Although it's a long-term solution that will take decades to accomplish, gaining the support of the youth is the only way to end the war.
He explained that educated Afghan women do not give their sons permission to fight in the military; therefore, defeating the Taliban lies in educating the youth, especially young girls. With an education comes the ability to interpret the Koran and make one's own decisions, an option not given to children indoctrinated into the Taliban through the madrassas, religious institutions that serve as orphanages and public schools. Unfortunately, because most families are too poor to afford school supplies, many children are inhibited from obtaining an education.
While the government sent more guns and bulletproof vests, Zeller chose alternative weapons for the war. He began to give out pens and pencils to children insatiably thirsty for knowledge. It's a small step in the fight for peace, feeling at times insignificant; yet these are the acts that transform the world, the plowing of the seeds of change. Shifting the mentality of an entire generation is not a fast process and Zeller admits that at times the prospect looks grim. He lamented that "there's too much gross mismanagement to be optimistic" about the future of Afghanistan. However, he left his audience with a strong and clear take home message: women are the key, education is the tool and time is the unfortunate reality.
A true hero, Zeller upholds the epitome of American ideology. He reminds us that winning the war isn't about million dollar drones, or IEDs. It's not about new policies, bigger guns, or better technology. It's not about stopping corruption and it's not about training a makeshift police force. It's simply about little girls and pencils.