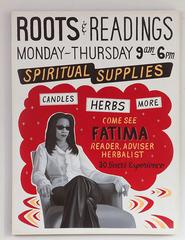 The Ruth and Elmer Wellin Museum of Art's exhibition, Renée Stout: Tales of the Conjure Woman, has been selected by HyperAllergic, the award-winning art blog with over a million readers, as one of the top 10 exhibitions in the United States. The Wellin exhibition was listed as #7 by the online publication.
Tracy Adler, director of the Wellin Museum, responding to the Dec. 16 article, said, "We are thrilled to have our exhibition recognized alongside such acclaimed artists and distinguished institutions around the country and are proud of what we've accomplished in three years since the Wellin opened its doors." Tales of the Conjure Woman closes on Dec. 20.
Other institutions included in the listing were Walker Art Center (Minneapolis), Cranbrook Art Museum (Bloomfield Hills, MI), Storm King Art Center (Mountainville, NY), Rubell Family Collection (Miami), Smithsonian American Art Museum (Washington, DC), Intuit: The Center for Intuitive and Outsider Art (Chicago), ArtPrize (Grand Rapids, MI), and the Pizzuti Collection (Columbus, OH).
In describing the work in the exhibition, the reviewer wrote, "Few contemporary artists exploring the narrative possibilities of art are doing it so compellingly and inventively as the Washington, DC–based Renée Stout, who crafts incredibly sharp trompe l'oeil paintings and objects so convincingly worn and weathered you can't believe they aren't found objects — and, just to make the illusion more confounding, she incorporates all manner of found objects. This show brought together an impressive range of works — including paintings, sculptures, glass, mixed media installations, photos, and prints — to tell a story about Fatima Mayfield, a conjurer who uses hoodoo traditions to concoct potions and cast spells. At times Stout's work was so strong that it was hard to tell where her magic ended and Mayfield's began."

In a separate Dec. 11 review of Tales of the Conjure Woman in the same publication, Brooklyn-based writer Jillian Steinhauer wrote, "…in her objects themselves, Stout has embedded the magic of art — a bewitching artifice — which is to say that her paintings, sculptures, prints, drawings, and photographs are so carefully constructed and so authentically felt they conjure and sustain their own reality." The article, titled "The Artist as Conjurer of Illusions and Truths," is accompanied by many photographs from the exhibition which was curated by Mark Sloan, director of the Halsey Institute of Contemporary Art at the College of Charleston.