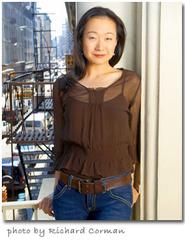 Min Jin Lee, whose debut novel, Free Food for Millionaires, was featured on NPR and appeared on several "Best of 2007" year-end lists, will read from her work on Wednesday, Feb. 27, at 8 p.m. in the Fillius Events Barn. The reading is free and open to the public.

Min Jin Lee has received the NYFA Fellowship for Fiction, the Peden Prize from The Missouri Review for Best Story, and the Narrative Prize for New and Emerging Writer. Her work has also been featured on NPR's Selected Shorts and anthologized in To Be Real and Breeder. Her novel, Free Food For Millionaires, was published in May 2007.
This event is sponsored by the Dean of Faculty and co-hosted by the Department of English and the Assistant Dean of Faculty for Diversity Initiatives.

Min Jin Lee will also hold an informal coffee hour for interested students at 4:10 p.m. Wednesday on the fourth floor of Root Hall.