I'm With the Band… Kind Of
---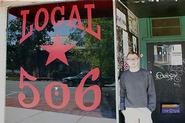 After attending a music concert, fans may not think about how much effort and planning went into the performance they just witnessed. Between picking a location, agreeing to a contract and managing equipment, hundreds of details are involved. This summer, Eli Davidow '15 is learning the intricacies of record labels, booking agencies and performance venues.
The Joseph F. Anderson '44 Internship Fund, administered by Hamilton's Career Center, is supporting Davidow's internship experience.
Working at Ground Control Touring's office in Carrboro, N.C., Davidow is learning about every step prior to, during and after a concert. His duties involve updating the company's website and managing a large database of past and upcoming shows, which he said "is a crucial organizing tool for the business."
Davidow obtained the internship by contacting an associate agent at Ground Control. She hired him to work in her company, and then directed him to a second position at Merge Records.
An independent record label in Durham, N.C., Merge Records signs some serious musical talent, including groups like Arcade Fire, Caribou, Neutral Milk Hotel and She & Him. Members of the band Superchunk started the label to release their own music before deciding to manage other artists, and they still work in the office when they are not touring.
Davidow's duties involve music distribution and warehouse management. He works on getting albums into different stores, which is "definitely a crucial part of a record company." To him, "it's cool to see the operation that goes into a big indie label."
As WHCL's music director, Davidow is now fascinated by how much effort record labels put toward creating relationships with radio stations.
The office is filled with "agents that are really into the signed bands, and it has been very cool to have that common interest with people I'm working with," for Davidow. He added, "music is more than a listening experience for me now."
After completing his internship at Ground Control, Davidow also started working at two popular concert venues. One, called the Haw River Ballroom, has an 800-person capacity and hosts larger performances.
The other venue is The Local 506, a 250-person center where "a lot of up and coming bands end up stopping by." The venue management has a strong track record of attracting blossoming bands, with groups like The Lumineers and Camera Obscura making appearances before they became more well-known.
Davidow helps decide which bands to book for The Local 506. The venue receives many performance requests, and it is his job to determine which group will attract the largest crowd. He is trying to find, "the determining statistic for whether a band will succeed or not at the scene." He is researching bands' Facebook fans, Spotify followers and recent album releases to see if they are correlated with a show's success.
Davidow encouraged anyone looking for an internship "to not be afraid to take a risk and reach out for something that you're really interested in." He said, "I've always wanted to pursue something music-related, it's been a passion of mine." Davidow is using this summer to gain valuable experience he can apply to his future career, as well as his work on campus with WHCL and the Independent Music Fund.
Davidow is a graduate of Newton North High School (Mass.).