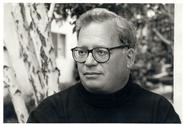 On Sunday, Sept. 24, at 2 p.m., The Sterile Cuckoo, filmed on and around the Hamilton campus in the late 1960s and co-written by a Hamilton alumnus, will be screened in Kirner-Johnson Auditorium. The event is part of the F.I.L.M. (Forum for Images and Languages in Motion) series organized by Scott MacDonald, visiting professor in art history.
The Sterile Cuckoo is an adaptation of the novel of the same name written by an alumnus, John Nichols '62, who also wrote the screen play with Alvin Sargent. The film stars Liza Minnelli in her first role in an American feature, one that made her famous. Minnelli was nominated for both an Academy Award and a Golden Globe for her performance. Shot on and near the Hamilton campus, The Sterile Cuckoo is skillful in depicting the central New York landscape. The film focuses on a troubled young woman infatuated with a Hamilton student.
David Shepard, considered one of the leading figures in the nation in the preservation of silent films, is donating a rare Technicolor 16mm print of the film to the college. The Sterile Cuckoo is the first feature directed by Alan J. Pakula The Sterile Cuckoo. Among the films Pakula went on to direct are Klute, Sophie's Choice, and The Pelican Brief.
A Hamilton alumnus, Shepard '62 will speak on Monday evening at 7 p.m., also in Kirner-Johnson Auditorium. He will present his print of director King Vidor's 1928 masterpiece, The Crowd, a film made in Hollywood, but in rebellion against Hollywood values. One of the great American silent films, The Crowd is about a young man and woman struggling to make a life in New York City. The film helped to expand the use of the moving camera as an expressive device. It earned King Vidor an Academy Award nomination as best director. The Crowd was written by Hamilton alumnus John VanAlstyne Weaver '14.