Ice Bears of the Beaufort to be Screened
---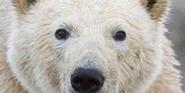 Arthur and Jennifer Smith will present Ice Bears of the Beaufort (2008) in the Hamilton F.I.L.M series on Sunday, Nov. 15, at 2 p.m., in KJ Auditorium. The screening is free and open to the public.

The Smiths live on the northern coast of Alaska, where they have devoted years to recording the lives of polar bears. In 2008 their collaboration produced Ice Bears of the Beaufort, a remarkable nature film with a clear environmentalist politic that won the grand prize at this year's Black Maria Film Festival.

As a result of our developing environmental crisis, nature filmmaking has become an avenue for proactive resistance to the status quo, and those women and men who put their lives on the line to bring the realities of environmental change to viewers are heroes of this resistance and a new kind of cinematic avant-garde. After the screening of Ice Bears, the Smiths will talk about the film and the nature of their collaboration.