In Economic Recession, Career Center Remains Optimistic
---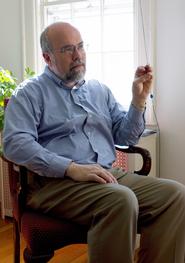 Most college students and their parents worry about the recession's effect on graduates' job opportunities. While recent unemployment trends and hiring statistics may appear daunting, the numbers offer only a glimpse at the uncertainty involved in the job search. However, even in fearful times it is important to remember that finding employment is not, in fact, a hopeless endeavor. Hamilton College's Career Center remains hard at work combining powerful resources to help students land an internship, secure a job and begin a career.

"I don't think I would have gotten this job without their help," says Tawanda Mashavave '10, of the Career Center's role in his recent offer from Goldman Sachs, where he will begin working in Operations Technology on July 14. Mashavave, a math and computer science major, had known for quite some time that he was interested in working at a financial firm. He says that he had been involved with the Career Center for several years, and that his experiences helped him with everything from finding the right contacts to interview skills.

Despite the added stresses of the recession, the Career Center's central doctrine remains the same. According to director Kino Ruth, the Career Center always has, and continues to, help students become "self-sufficient." That is, they are provided with the skills they need to succeed in the job market for years to come, such as networking and interviewing. Ruth stresses that finding a job is far from impossible, and that the basic process has not changed much. Students are still encouraged to find summer internships, which can lead to job offers. The Career Center uses online workshops, one-on-one counseling, and connections with alumni to help students with these goals, just as it had before the economic downturn.

What has changed is the attitude that many students have developed. Ruth says that some students who read about the crisis become alarmed and ultimately downcast. They feel that there is little hope of securing a position, and so are far less optimistic than normally. Julia Wilber, class of 2011, notes, "I think the greatest challenge for any internship or job search, especially right now, is maintaining a positive attitude about the search itself." This is where counseling can have an effect on student morale. Ruth often plays a supportive role for students who could use a reminder of just how much of an advantage they have. Of course, the recession has made it more "challenging" to find available positions, but that does not make it unfeasible, especially for students who have the opportunity to grow in a liberal arts environment. Despite the obstacles in the way, Wilber has secured a position as a Programs Intern at the Fair Trade Federation for the upcoming summer.

When asked about the advantages that Hamilton students have over other, larger institutions, Ruth states "I would put a Hamilton student up against anybody [with the same level of education]" in the job market. What allows Ruth to have such confidence? He believes that Hamilton students get the advantage of both a strong, well-rounded education and the benefits of a dedicated Career Center. They not only have an impressive resume and the ability to interview effectively, but their education has taught them "how to think," which will last a lifetime. Indeed, Lindsay Repp '10 states "At the very least, I have developed the ability to learn new things and a strong work ethic, and because of that, I think that I can be successful wherever I may end up in the future."

Hamilton's size and location, while beneficial in some ways, also puts the college at some level of a disadvantage with respect to potential new employers. That is, employers who may have been willing to speak with Hamilton students may be put off by Hamilton's size and distance from major cities. It is riskier to take time to travel to a small school in Clinton than a large university in New York City with regard to the ratio of time spent to hiring probability. However, what Hamilton lacks in size it makes up for with its loyal alumni, who are, according to Ruth, the Career Center's "bread and butter" in terms of employers.

In fact, it was through alumni connections that Repp secured an internship with CIGNA Healthcare the summer after her junior year, which led to a job offer as a senior actuarial analyst. She will begin work at her new position at the end of July. Repp, a math and economics double-major, had been taking advantage of the Career Center since her sophomore year. "The Career Center has been very helpful in my job search," she says of the experience. In addition to working at CIGNA, Repp will be studying and taking the nine exams necessary to become a Fellow of the Society of Actuaries.

While data for the class of 2009 is not yet available, Ruth explains that employment rates among Hamilton graduates had decreased in the last year, yet they are expected to rise, and the future appears hopeful as long as the economy continues recovering. In the mean time, students are encouraged to start early and visit the Career Center while in their freshman or sophomore year to maximize the opportunities they will have later on.

With regard to the all-important internships that functions as gateways to successful careers, many underclassmen are finding that they can achieve their goals as well. Though the process may indeed be demanding, students frequently find the end result to be highly rewarding. Nicholas Wiggins '11 says of the process, "I would say that for every three connections that you build, only one meaningful opportunity results." After a tiring search, Wiggins will begin an internship as an investment banking summer analyst at Deutsche Bank this summer. He hopes that this position will further his goal of becoming an investment banking analyst full time.

Wiggins credits the Career Center with providing him with the contact that ultimately landed him his internship. Similarly, Caitlin Fitzsimons '11 will return to her position as a settlements intern at Thornton & Naumes LLP in Boston this summer. She has employed the Career Center's services since her freshman year, and relates that the Center's resources have given her access to thousands of opportunities in addition to helping her hone essential skills such as networking and writing a resume.

Students are often attracted to Hamilton's beautiful campus and welcoming environment. They look forward to taking a diverse selection of classes to broaden their perspective. But Hamilton proves that it has even offer to offer. Students have powerful tools at their disposal when it comes to starting a career. Even in uncertain times, Hamilton students prove themselves to be upstanding and independent. They enter the job market not just as well-educated young adults, but as well-prepared professionals who can meet and overcome challenges with courage and great skill.