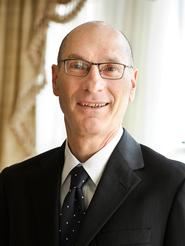 If you weren't already planning to make it back to College Hill for Fallcoming & Family Weekend on Oct. 6-9, now you have another reason to do so: Hamilton will inaugurate David Wippman as the College's 20th president that Saturday at 10:30 a.m. in the Margaret Bundy Scott Field House. Walter Mondale, the 42nd vice president of the United States, will offer brief remarks.
The inauguration ceremony, which will be attended by delegates representing academic institutions and honor societies, is free and open to the public. An all-campus picnic will follow.
The weekend's events begin Thursday evening with a screening of the first 30 minutes of the PBS documentary "Hamilton's America" and will include student poster sessions, concerts and intercollegiate athletics contests. "Alex Talks," a series of concurrent 30-minutes talks with Q&A by Hamilton community experts and friends, are planned for Friday afternoon, and the traditional Friday evening Fallcoming jazz concert will feature piano virtuosos Dick Hyman H'02 and Rossano Sportiello performing jazz, classical and improvised music.
David Wippman assumed the Hamilton presidency on July 1 after serving eight years as dean of the University of Minnesota Law School. He received his bachelor's degree, summa cum laude, from Princeton University, his master's degree in English literature from Yale and his law degree from the Yale Law School, where he was the editor-in-chief of the Yale Law Journal. After practicing law in Washington, D.C., President Wippman started his academic career at Cornell University. A highly regarded authority on international law, he is the author or co-author of four books and numerous articles.
You can follow President Wippman on Instagram as he begins his tenure at Hamilton and meets with students, alumni and parents.