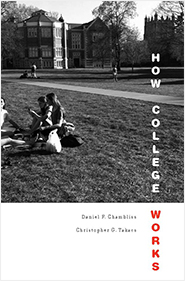 This summer InsideHigherEd published two opinion pieces by Eugene M. Tobin Distinguished Professor of Sociology Daniel F. Chambliss, both related to his research and resulting book How College Works. "Learn Your Students' Names" appeared on August 26 and was preceded by "Beauty in Ugly Dorms" on June 25.
Chambliss, who co-authored How College Works with his former student and current doctoral student Christopher Takacs '05, suggests to his fellow educators in his more recent piece that learning students' names is "uniquely powerful" and can improve student course work.
"Why is knowing someone's name or acknowledging them individually so important?" Chambliss asked. "Any person's name is emotionally loaded to that person and has the power to pull him or her into whatever is going on. By putting that person at the center of attention, naming takes only a moment from you – but for them, it is deeply affecting, and lasts.
"But more than that, calling a student by name opens the door to a more personal connection, inviting the student to see the professor (and professors generally) as a human being, maybe a role model or even a kind of friend," Chambliss wrote.
How College Works was released by Harvard University Press (HUP) in March. In the last few months, the book and the Mellon Foundation-funded research on which it is based have received significant attention from the national education media.
Chambliss and Takacs are currently engaged in a six-week, Twitter-based conversation with educators and other contributors focused on their book. The exchange resulted from The Chronicle of Higher Education choice of How College Work as its second volume in the publication's book club.
According to HUP, How College Works reveals "the surprisingly decisive role that personal relationships play in determining a student's collegiate success, and puts forward a set of small, inexpensive interventions that yield substantial improvements in educational outcomes."