Installation Artist Is First in Visiting Artist Series
---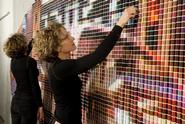 The first presenter in this year's visiting artist series, Devorah Sperber, will speak on Wednesday, Sept. 30, at 4:15 p.m. in the college's Kirner-Johnson auditorium. Sperber is an American installation artist known for creating works out of spools of thread, chenille pipe cleaners and map tacks that act as optical illusions.
Some of Sperber's work has involved using thousands of spools of thread to create pixilated versions of iconic works of art by famous artists. In other work she has used thousands of beads in threads to create detailed portraits.
Sperber exhibited at the Brooklyn Museum in 2007 and at the Massachusetts Museum of Contemporary Art in 2008. Her work is included in a current exhibition at the Albany International Airport titled "Out of This World," which is "an exhibition featuring seven artists whose work transcends the terrestrial." One of Sperber's pieces was acquired in 2006 by the North Carolina Museum of Art. The work, "After the Mona Lisa 2," is made of more than 5,000 spools of thread manufactured in that state.
Art in America
described Sperber's pieces as offering "a graphic illustration of how the brain organizes sensory information to create recognizable images."