10 Students Participate in Annual Model UN Assembly
---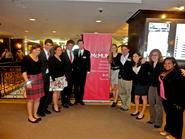 Ten Hamilton students traveled to Montreal to participate in the McGill University Model United Nations Assembly (McMUN), which convened January 26-29. The conference drew more than 1,300 delegates to fill 25 different committees that focused on international relations in the Information Age.
The 22nd installment of the McMUN was unique in its special attention to the roles of non-state actors such as businesses, organizations, and intellectual institutions, all with unique material and ideational interests. Ellen Esterhay '14 said of her experience, "The conference gave me a much better understanding of how diplomacy actually works and how difficult it is to align the different interests of various actors." Jamie Monteith-Mann '15 noted, "The conference in the international city of Montreal was a suitable setting to discuss global issues, such as cyber-terrorism and other security threats due to the financial crisis."
Both Monteith-Mann and Esterhay participated in the Munich Security Conference along with Emma Sisti '14 and Hannah Carlisle '14 as the Turkish Minister of Foreign Affairs and the Secretary General of Amnesty International.
Jennifer Roberts '14 played the role of Svein Rennemo from Statoil ASA in the World Economic Forum, while Daniel O'Kelly '14 took part in the 6th Emergency Session on Afghanistan as Austria. Tracy Mazerolle '15 was a representative from the Evangelist Church in the Committee of Religious NGOs and Erich Romero '12 served as Poland's NATO representative in a crisis council on Libya.
Rounding out the roster, Alice Henry '14 portrayed Dalia Grybauskaite from the Republic of Lithuania on the Council of Women World Leaders and Jose Vasquez '15 worked with the Federation of American Scientists as the chemist Roderick MacKinnon.
Hamilton's delegation spent several weeks preparing for the conference under the guidance of faculty advisor and Assistant Professor of Government Ted Lehmann. Students extensively researched their positions and utilized the public speaking and writing skills they've honed during their time at Hamilton to represent their roles as professionally as possible. They simulated the work of the United Nations and other international organizations by taking part in negotiations and creating resolutions with other delegates to solve pressing issues of the day.
The Hamilton College Model United Nations delegation has previously attended conferences at Boston University, Yale University, and Harvard University, as well as Washington, DC and New York City. Model United Nations is graciously funded by Student Assembly, the Levitt Center and the Office of the President.