Internship at Human Rights Campaign Gives Rachel Rapoza '10 View of Non-Profit World
---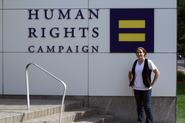 As an out lesbian, Rachel Rapoza '10 cares deeply about the Human Rights Campaign, which is the largest national civil rights organization for lesbian, gay, bisexual and transgendered people. It is a force of more than 750,000 members nationwide, serves to protect the rights of LGBT Americans, and works diligently to ensure that these members of society are embraced as passionate and genuine human beings with great capabilities and potential. HRC is involved in political outreach campaigns as well as non-political research that raise awareness of gay and lesbian issues. They serve a broad range of groups, from elementary schools to corporations nationwide.

This summer, Rapoza has an internship with the HRC – an opportunity she could not pass up. When she was scoping out her possibilities for the summer a few months ago, she was thrilled to see that the HRC was offering summer internships, and immediately applied for a position. Now she works in the partners/sustaining gifts department, which deals with members who donate between $8 and $99.

"It's a 9 a.m. to 5 p.m. job, Monday through Friday, which seems like a long day, but it's a lot of fun working here," she said. "I am learning a lot about fundraising, and the challenges non-profit organizations face during this tough economic time." Her responsibilities include handling member requests, adding new members, and talking to prospective members.

The internship is unpaid, however, so Rapoza needed to find a way to support herself financially while taking on a full-time internship. She applied for Hamilton's Joseph H. Anderson Internship Fund, and through the stipend she received, she was able to accept the summer opportunity. The Anderson Fund was given in honor of a 1944 Hamilton graduate who was the vice president for communications and development for 18 years. The purpose of the fund is to allow students to pursue unpaid internship positions that prepare them for potential careers. Students are able to explore their intended career path and decide whether or not it is in their best interest.

Rapoza is a classics major, so this internship may not seem to have much to do with her academic interests. But one advantage to majoring in classics, a staple of many liberal arts college departments, is the breadth of career options. While a neuroscience major will probably head down some sort of medical path, and an engineering major at MIT will most likely stick to a few closely related occupations, a humanities major can open up a spectrum of possibilities. Rapoza feels that teaching has always been as option for her, but she can also see herself doing many other things. She says this internship has "spurred my interest in working in non-profit after graduation." Her Hamilton education would be a good supplement to working with people in the non-profit sector because of the emphasis Hamilton professors put on writing.

Furthermore, it was in Ancient Greece that human rights began to take on a much loftier, more significant tone. Their concept of natural law permeated Greek Literature and was Antigone's explanation as to why she refused to bury her dead brother: the natural order of the universe commanded human rights, and she claimed she acted under those laws. Many other examples of human rights issues in Greece and Rome exist, so perhaps there is, in fact, a connection between Classics and non-profit agencies from which Rapoza can benefit.

Rapoza plays varsity ice hockey and softball, and is a representative for SAAC (Student Athlete Advisory Committee). She is also president of the Hamilton College Classics Club.