Iowa's First Couple Returns to the Hill
---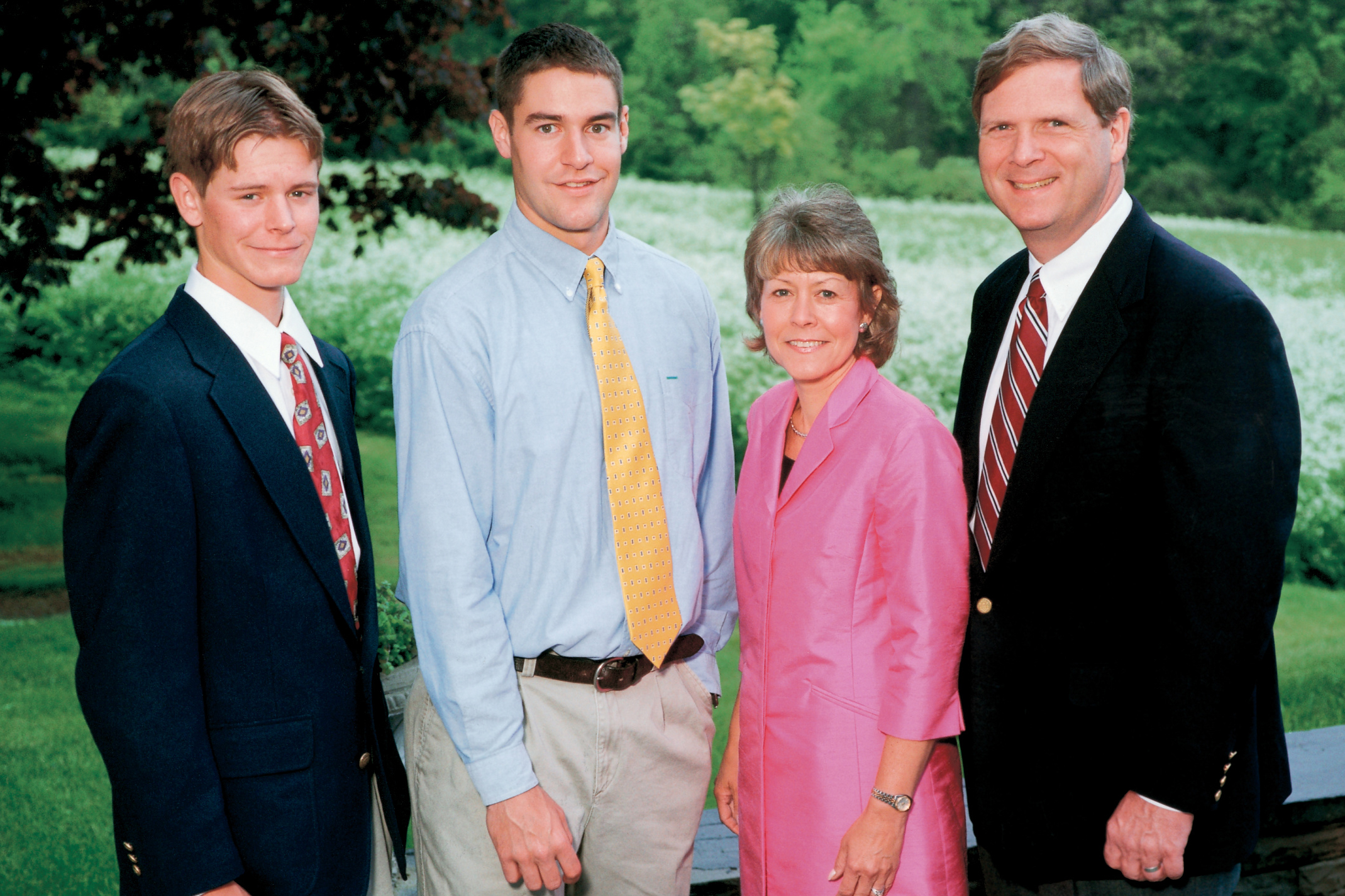 This article appeared in the Fall 2000 issue of the Hamilton Alumni Review.
During commencement exercises last spring, Tom Vilsack '72 and Christie Bell Vilsack K'72 watched their son, Jess, walk across the stage to receive his Hamilton diploma. Anyone who didn't know them would never suspect that the tall, quietly confident "dad" is the governor of Iowa and "mom" the driving force behind the governor's political career, as well as a pioneer in reshaping the role of the first lady of Iowa.
The occasion brought back memories. More than two decades earlier on the Hill, Vilsack had lost his bid for Hamilton class president. He decided then and there that he would never run for any office again. Many residents of Iowa are glad he changed his mind.
The atmosphere of the '60s when Tom Vilsack and Christie Bell were at Hamilton and Kirkland heightened their interest in and awareness of political issues. They met in the dining hall one evening when Tom walked up to Christie and said, "Who are you going to support in the election, Humphrey or Nixon?" "Humphrey, of course," came her reply. And the rest is history.
An Iowa native, Christie brought Tom home with her after he completed his law degree from Albany, and the future governor worked in her father's law practice before embarking on his political career.
In 1987, the mayor of their town was murdered, and Vilsack was asked to run. He admits he was a bit reluctant. He was established in his law career and had a young family, but said, "I ran because Hamilton taught me I had a responsibility. I had a good education, a good job, my family was doing well. This was my opportunity to give something back."
He won easy races for re-election and for the state senate in 1993, but then the call came to run for governor in 1998. "It was a big decision, but one we made as a family," he added. His sons and wife fully supported his campaign, attending rallies and going door-to-door as he canvassed neighborhoods even when the outlook seemed bleak.
At one point in the race, he fired his third campaign manager and was 20 points behind his Republican challenger. A moderate Democrat, Vilsack went back to the drawing board and made a new TV ad telling voters he would not say or do anything just to win the election.
"I figured ... I'm just going to be who I am and stop worrying about losing," he said.
Many considered Vilsack's opponent, the former Rep. Jim Ross Lightfoot, unbeatable. Lightfoot, a 12-year congressional veteran with statewide name recognition, had wide leads in the polls throughout much of the campaign. But Vilsack, then a Democratic state senator, conducted an energetic campaign that helped get his name and ideas before Iowa voters. He picked up steam in the last month of the campaign, hammering home his themes of education and working families.
Vilsack's impressive victory gave him a 52-47 margin, making him the first Democrat to be elected governor of Iowa in 30 years. Not since Harold Hughes was governor in 1966 had there been a Democrat in office.
The remarkable campaign went hardly noticed as the national media descended on neighboring Minnesota to follow professional wrestler turned gubernatorial hopeful Jesse Ventura. Even though the press wasn't paying attention, the Democratic leadership was. Ten minutes after the polls had closed, the phone rang and Vilsack was told to hold for the vice president. Al Gore said, "Congratulations," and became the first person to let Vilsack know he had won the election.
Vilsack at one time was pegged as a possible vice-presidential candidate because he is young, has a compelling political story, is philosophically aligned with Gore and, most importantly, a Midwesterner - a key battleground in the race between Gore and George W. Bush.
In an appearance on CNN's "Inside Politics," Vilsack defended Iowa's first-in-the-nation status for the presidential caucuses, always a topic in Washington. Much of the hoopla surrounding the straw poll is that, historically, Iowa's economy has often determined the caucus winner, although not the winner of the presidency. In 1980, George Bush won the caucus but lost the nomination and became vice president. In 1988, Bush came in third in the caucus but then went on to win the nomination and the presidency.
During the Iowa caucus, both Vilsack and his wife, Christie, were very much in the national spotlight. Anyone who meets Mrs. Vilsack will quickly realize she plays more than a supporting role. The Washington Post, in a recent article about the presidential candidates, wrote, "When Vice President Al Gore entertained the Democratic governors at his official residence Saturday night, there was nothing subtle about the seating arrangements. On one side he had Christie Vilsack, the politically astute wife of Tom Vilsack . . ."
An active and energetic campaigner, Mrs. Vilsack has created a new mold for spouses in Iowa politics - one that is up front instead of behind the scenes. A former teacher, Mrs. Vilsack's influence can be seen in the governor's education plan, which includes early childhood education, a strong foundation in the basics, a safe and secure learning environment and a promise that Iowans should have access to quality public libraries. "I want to do whatever I can to promote the concept of how important public libraries are to education and to creating community in Iowa," she said.
Mary Lou Millar, who worked in the Hamilton admission office for many years, recalled that Christie volunteered at the Kirkland Town Library during her undergraduate days. "She was the cutest thing," recalled Millar, one of the librarians at the time. "She used to get right down on the floor with the kids when she was reading to them, and the kids loved her."
Mrs. Vilsack said of her current role, "Because the first lady is not elected and not paid, I can do anything! At first I thought I would continue teaching but then decided to make the State of Iowa my classroom. Education is a very important issue for me, and I want to make sure that Iowa has high standards."
She credits her years at Kirkland with providing the preparation "for everything I've done since." When she was deciding where to go to college, Kirkland didn't exist. It was the idea of building a college that appealed to her. "It was exciting to work with Sam Babbitt (Kirkland College president). I was part of the first 172 women who came as pioneers to Kirkland," she added. "We sat on trustee committees and participated in creating the educational program. We designed our own independent studies classes and our own majors. All the things we take for granted at Hamilton today, like small class sizes and intensive faculty/student interaction, were part of what we started at Kirkland."
Mrs. Vilsack laughed as she recalled the first time she arrived on the Kirkland campus, which had only three buildings, all under construction. "During our freshman year we wore green metallic construction helmets because our buildings were still being built."
Yet in a way, the physical state of flux on campus paralleled the times.
"I was at Kirkland during the turmoil of the Civil Rights movement and height of the Women's Rights movement. Kirkland provided a safe environment, as does Hamilton, to make mistakes, make decisions and take risks," she said.
Governor Vilsack also feels that he benefited from the Hamilton/Kirkland experience. Its impact came to mind recently when he made a controversial choice of a relatively unknown woman for lieutenant governor. "Sally Pederson was a good choice, and I probably wouldn't have given her the opportunity to prove that if it weren't for the influence of my interactions with women at Kirkland College," he added.
Now wrapping up their second year in office, the First Family is busy fulfilling campaign promises and embarking on new ventures. Vilsack heads a coalition of governors working to promote renewable fuels like ethanol, which uses Iowa corn, and is chairman of a committee of the National Governor's Association on Biotechnology. This year, he'll be focusing on a major overhaul of the state's teacher-compensation program; funding programs to attract immigrants to his state to meet his goal of "more, younger and better-paid Iowans"; working to improve water quality; and signing into law measures that will provide better health insurance and education for children.
Mrs. Vilsack is actively campaigning for local and national Democratic candidates. She also keeps in close contact with her two sons, Doug, a student at Colorado College, and Jess, who is in his first year at the University of Iowa Law School following graduation from Hamilton in May.
It was Jess' decision to attend Hamilton that renewed the Vilsacks' ties to the Hill. Both Tom and Christie were disappointed with the way the Hamilton/Kirkland merger transpired and did not return to campus for many years. "From what I've seen, Kirkland lives at Hamilton," Mrs. Vilsack said. "When we saw that Jess had the opportunity to take a non-traditional freshman English class that put him in North to live with other students interested in an interdepartmental class, we realized that Kirkland was still alive at Hamilton."