Ipsita Bhatia '11 is Named Hamilton's Twentieth GOLD Scholar
---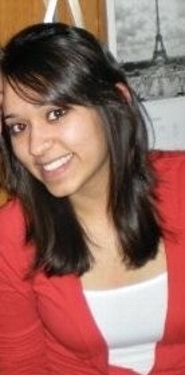 Hometown:
Mumbai, India
High School:
Woodstock School, Kodaikanal International School
Major(s):
Economics, German
Campus Activities:
International Student Association vice president; Hindi Tutor; Information Services intern; HAVOC tutoring
Last Movie Seen in Theaters:
Adventureland
Favorite Movie(s): 10 Things I Hate About You, My Best Friend's Wedding
Favorite Place You've Lived on Campus:
North 417 (I lucked out with the BEST roommates freshman year)
Last Book Read:
Tonio Kröger
by Thomas Mann
Favorite Book: Harry Potter series
Hobbies/Interests: Travelling, music, meeting new people, coffee, lots of chocolate
Favorite Place on Campus: Anywhere outside where it's sunny
Favorite Campus Dining Location: McEwen
Quote:
"What goes around comes around."
Thanks to the generous support of young alumni, Hamilton is pleased to name Ipsita Bhatia '11 of Mumbia, India, as its 20th GOLD Scholar. Ipsita recently sat down to reflect on her Hamilton experience, and here's what she shared.
Where did you grow up and what was life like there?
I grew up where nothing was constant except change. I have lived in a variety of towns across India and abroad, including Tokyo, Hildesheim (Germany) and now Clinton! By the age of 7, I had lived in five cities across northern India, at which point I moved to Tokyo. Living there taught me about independence at a young age and exposed me to a culture vastly different from my own. When I was 11, I moved back to India and lived in two small hill stations, as well as the metropolitan city of Mumbai. For me, growing up was all about adapting — to different towns, friends and schools — and learning lessons from the world and people around me.
What was high school like?
I attended three high schools, two were residential schools in north and south India, and the third was a German high school that I visited as an exchange student for a semester. Attending residential schools gave me an appreciation for small close-knit communities, where friends become family and dorms become homes. These experiences inspired me to attend a college with a similar small and welcoming community, a college like Hamilton.
How did you discover Hamilton?
Over the Internet! I stared researching colleges the summer after my junior year in high school, narrowed down my top choices and asked my parents to visit my top selections in August. They loved Hamilton and its campus and knew it would be an environment I would love to spend four years of my life. They were right.
What are three defining elements of your time on the Hill?
1. "Pizza and Conversation:" The first event of International Student Orientation '07, where I met some of my first and closest friends.
2. Minor Common Room: One of the most social places I know on campus. I have the privilege of living with and getting to know some of the coolest people at Hamilton five feet from my room.
3. Commons and McEwen: Yes, food could possibly define my life here. My friends and I can turn cereal, PB&J, a couple passersby and lots of conversation into some of the best afternoons ever.
What are your plans after Hamilton? Where do you want to live?
I want to live in a big city in another country doing what it takes to keep me there for a while. My time as a student in Germany, Berlin, Vienna and Zürich immediately come to mind. Regardless of where I am, I want to be exposed to more cultures that place me outside of my comfort zone and enable me to learn more about myself through others. And eventually I see myself back in India.
What advice or perspective would you share with alumni?
Getting to call myself a Hamiltonian is an honor – I cannot picture myself having the opportunities I have had and making the most of them at any other college. Hamilton's students, faculty and charm as a tight-knit community make it an ideal campus, where there is never a dull moment or a shortage of people to get to know.
Gold Scholars is an initiative supported by the Annual Fund, which has always provided direct support for the College's most important current priorities, especially scholarship aid. Starting this year, gifts from the GOLD Group – Graduates of the Last Decade – will specifically support students on campus. With each $15,000 increment collectively contributed, the College will select a student as a GOLD Scholar for 2008-09.