Israel's First Bedouin Diplomat to Lecture Oct. 22
---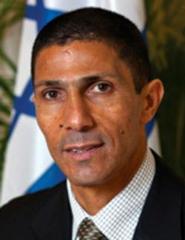 Ishmael Khaldi, a diplomat from the Israeli Foreign Ministry, will deliver a lecture on Tuesday, Oct. 22, at 8 p.m., in the Fillius Events Barn. Khaldi will describe his rise from the Bedouin minority living in Israel to become a top Israeli diplomat.
The event is free, open to the public and sponsored by Hamilton College Hillel.
Khaldi was born and raised in a Bedouin village in the western Galilee of Israel. He became Israel's first Bedouin diplomat in 2004. He served as the spokesperson to the Arabic media during Israel's disengagement from Gaza in 2005 and as Israel's deputy consul general in San Francisco from 2006 through 2009. In 2010, Khaldi published his memoir, A Shepherd's Journey, which details his transformation from a poor boy in a Bedouin village to one of Israel's most respected diplomats.