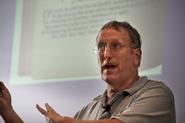 Maurice Isserman, the Publius Virgilius Rogers Professor of American History, was an invited participant/discussant at the 19th Berlin Colloquium on Contemporary History April 23-25 at the European Academy Berlin in Germany.
Co-sponsored by the Hamburg-based Institute for Social Research and the Potsdam-based Einstein Forum, the conference theme was "The Second Founding of the United States, 1937-1947" and focused on the changes in American domestic politics and international relations in the years leading up to, during, and immediately following World War II.
Two dozen American and German scholars participated in the conference, including professors from Princeton, Columbia and New York Universities.