Isserman Article Published in Dissent Magazine
---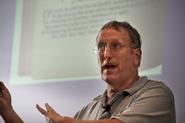 An article by Publius Virgilius Rogers Professor of American History Maurice Isserman titled "Starting Out in the Fifties" appears in the Winter 2014 issue of Dissent Magazine. The publication commissioned Isserman to write the article, a history of the magazine for its 60th anniversary celebration in October 2013. It was originally presented in booklet form. Focused on the early history of the journal beginning with its founding in 1954, the entire article will be freely available on the magazine's website within a couple weeks via this link.
Described as "a pillar of leftist intellectual provocation" by The New York Times, Dissent is a quarterly magazine of politics and ideas. Establishing itself as one of America's leading intellectual journals since its founding in 1954, it has published articles by Hannah Arendt, Norman Mailer, Aleksandr Solzhenitsyn, Ellen Willis, Richard Wright, and George Packer, among many others.
The non-profit magazine originally published dissident work from the Eastern Bloc. It now focuses on politics and social movements with a recent focus on the Middle East and China.