Isserman Discusses 1963 March on Washington
---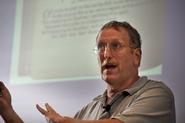 Publius Virgilius Rogers Professor of American History Maurice Isserman participated in a panel discussion commemorating the 50th anniversary of the March on Washington. The discussion, sponsored by the Albert Shanker Institute and the United Federation of Teachers (UFT), took place March 19 at UFT headquarters in New York City.
More than a quarter-million demonstrators participated in the August 28, 1963, March on Washington for Jobs and Freedom. The day's events included a rally at the Washington Monument followed by a march to the Lincoln Memorial where prominent civil rights and religious leaders addressed the crowd. It was there that Martin Luther King, Jr., delivered his "I Have a Dream" speech.
Isserman was joined by fellow historians Eric Arnesen of George Washington University, author Charles Euchner and William Jones of the University of Wisconsin Madison, for a discussion focusing on the meaning and significance of the march.
Isserman is the author of If I Had a Hammer: The Death of the Old Left and the Birth of the New Left (1987), an examination of the radical and socialist milieu in which march organizers Bayard Rustin and A. Philip Randolph were involved. He co-authored America Divided: The Civil War of the 1960s with Michael Kazin.
Arnesen is the author of Brotherhoods of Color: Black Railroad Workers and the Struggle for Equality (2001). He is currently working on a biography of A. Philip Randolph. Eucher is the author of the oral history of the march Nobody Turn Me Around (2010). Publication of Jones' book The March on Washington: Jobs, Freedom, and the Forgotten History of Civil Rights is planned for later this year.