Isserman Presents at American Mountaineering Museum
---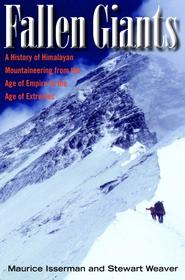 Maurice Isserman, James L. Ferguson Professor of History, will join Everest pioneer Tom Hornbein, author of
Everest: The West Ridge
, for a presentation on the history of Himalayan mountain climbing on Thursday, Jan. 8, at 7 p.m. at the
Bradford Washburn American Mountaineering Museum
in Golden, Colorado. This is a free event open to the public.
Isserman's award-winning book,
Fallen Giants:A History of Himalayan Mountaineering From the Age of Empire to the Age of Extremes
, was described by a
New York Times
reviewer as"an awe-inspiring work of history and storytelling."
The Bradford Washburn American Mountaineering Museum opened its doors in February 2008 to be the first and only museum in the United States dedicated to the heroism, technology, culture and spirit of mountaineering.