Isserman Presents Bicentennial Book
---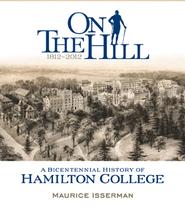 Years of dedicated research, writing and design have culminated in the publishing of On the Hill: A Bicentennial History of Hamilton College. On Wednesday, Aug. 24, from 1:30-2:30 p.m., Maurice Isserman, the Publius Virgilius Rogers Professor of American History and the book's author, will speak briefly about the book and sign copies in the Burke Library Browsing Room.

Published in commemoration of Hamilton's 200th anniversary, this 400-page hardcover book tells the story of the college's history through text and hundreds of photographs, illustrations, maps and other images. On the Hill is the first official and full-scale history of Hamilton to be published since 1962, the year of the College's sesquicentennial. The half-century between 1962 and 2012 brought great changes to the institution, as Hamilton more than doubled in size, dramatically revised its curriculum, reshaped campus social life, became coeducational, attracted a more diverse student body and rose in national prominence. At the same time, much stayed the same. In 2012, as in 1962 -- and, for that matter, as in 1812 -- Hamilton remains a small, selective, residential liberal arts college with a dedicated faculty of teacher-scholars.

Copies of On the Hill can be reserved online at : http://www.hamilton.edu/200/bicentennial-history-book . The event is free and open to the public.