Isserman Publishes Review in Democratic Left
---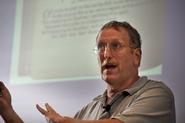 Publius Virgilius Rogers Professor of American History Maurice Isserman recently published a review of John Nichols' book Uprising: How Wisconsin Renewed the Politics of Protest, From Madison to Wall Street. "Bread and Roses - or Dust and Ashes?" appeared in the fall issue of Democratic Left magazine.
Isserman says Nichols' book "is a good starting place for understanding the Wisconsin conflict" that began in 2011 "over Republican governor Scott Walker's attempt to cut benefits and strip Wisconsin public unions of collective bargaining rights."
Nichols is a Washington correspondent for The Nation magazine and an associate editor for The Capital Times (Madison, Wisc.).