Isserman to Address Boston Forum on Poverty
---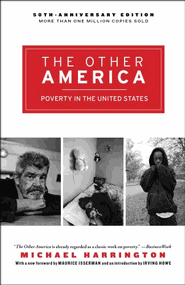 Maurice Isserman, the Publius Virgilius Rogers Professor of American History, is the keynote speaker at "What's become of 'The Other America' - The War on Poverty Then and Now," a forum examining poverty now and half a century ago. The afternoon program is hosted by Action for Boston Community Development (ABCD) on Thursday, May 24, from 3 to 6 p.m. and is free and open to the public.
Isserman is the biographer of Michael Harrington, the author of The Other America. He also wrote an introduction for the 50th anniversary edition of Harrington's book which was published this year.
Joining Isserman for this forum are two Boston Globe reporters, columnists Jeff Jacoby and Joan Venocchi, as well as Boston Phoenix writer Chris Faraone, author of Ninety-Nine Nights with the Ninety-Ninety Percent.
ABCD, located at 178 Tremont Street in Boston, is a community agency serving more than 94,000 low-income Boston-area residents through its central offices and a decentralized network of Neighborhood Service Centers (NSCs), Head Start centers, Family Planning sites and Foster Grandparent sites.