Jacobus "Cobus" van der Ven '11 is Hamilton's 30th GOLD Scholar
---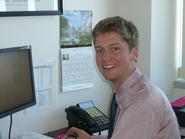 High School:
Camden Hills Regional High School, Rockport, Maine
Major:
Mathematics
Minors: Philosophy, Economics
Campus Activities: President of Student Assembly, Quantitative Literacy Center Tutor, ITS Intern, Adirondack Adventure Leader
Last Movie Seen in Theaters: Oceans
Favorite Movie: Good Will Hunting
Favorite Song: Feast or Famine by the Rustic Overtones
Places You've Lived on Campus: South, Bundy, G-Road
Last Book Read: Life of Pi by Yann Martel
Favorite Book: The Killer Angels by Michael Shaara
Interests: Traveling, snowboarding, the outdoors
Favorite Place on Campus: Root Glen
Favorite Campus Dining Location: The Pub
Fondest Hamilton Memory: My fraternity initiation
Favorite Quote: "It don't mean a thing if it ain't got that swing." –Ella Fitzgerald
Where did you grow up and what was life like there?
I'm from a small town in mid-coast Maine, although my family travelled a lot. We spent one year in Aix-en-Provence, France, and two years in Rotterdam, the Netherlands, while I was growing up. Although it sometimes felt stifling when I was young, looking back it was wonderful to grow up in a small town. Many of my memories are characterized by a sense of community. Walking through my town you know everyone around you, which is wildly comforting.
Describe your family.

My family is remarkably eclectic. My father is a studio artist who does his pottery out of our barn. My step mother is the chaplain for the Maine Warden Service and a writer. She writes about her work, love and marriage. I have a sister, who is a nursing student at Hartwick College and a talented artist. I have four step-siblings on my dad's side. Peter, who is a fantastic drummer and is going to school to study jazz; Ellie, who loves to write and is currently at Hampshire College; Woolie, who is a wonderful painter and is going to the Art Institute of Boston next year; and Zach, who is a combat correspondent in the Marines and about to be a father. My mother is incredibly athletic and a nationally ranked swimmer. She is the only person in history to swim the entire 38-mile length of Cayuga Lake and continues to win gold medals at master's national events. She is married to an anesthesiologist who has three kids in South Africa.
What was high school like? Who inspired you?
I loved high school. I spent a lot of my time playing soccer, snowboarding and working. I worked as a deckhand on a boat that ferried construction workers to local islands, as a carpenter, a caterer, a dishwasher and a snowboard instructor. My biggest inspiration was probably my father, a beloved art teacher at the high school.
How did you discover Hamilton?
I first heard of Hamilton on a live version of a Dispatch song, even before I started my college search. I believed that going to a liberal arts school was the best way for me, and so I researched all the liberal arts schools in the Northeast. I remember being tired and not wanting to go on my Hamilton tour. My mom and I almost left before the tour started. But by the end of the tour I was hooked, and Hamilton was at the top of my list.
What were your first impressions of the College?
College tours tend to blend together, but Hamilton stood out. There was a different attitude on campus, something almost inexplicable. Everyone smiled, they looked you in the eye when you walked by.

Ultimately, I think that Hamilton students loved being at Hamilton, and that is why I came. I still certainly believe this to be true today. We go to a geographically isolated school with cold winters, but somehow almost everyone loves being here, including me!
What are your plans after Hamilton?
I have wanted to go to law school after I graduate for a long time. I am interested by the concept of law and hopefully by the practice as well. Although law interests me, however, I understand that I do not really know what it means to be a lawyer. My plan is to take a few years off to work, live, travel and get a sense of the different career tracks available to me.
GOLD Scholars
is an initiative supported by the Annual Fund, which has always provided direct support for the College's most important current priorities, especially scholarship aid. Since 2006 gifts from the GOLD Group – Graduates of the Last Decade – specifically support students on campus. With each $15,000 increment collectively contributed, the College will select a student as a GOLD Scholar for 2009-10.