Jason Paulino '06 Publishes Debut Novel, Chosen
---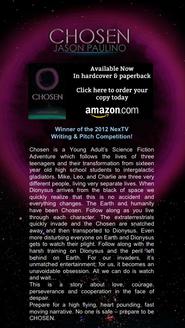 Jason Paulino '06 has published his first novel, Chosen. The novel's website describes Chosen as "a Young Adult's Science Fiction Adventure which follows the lives of three teenagers and their transformation from sixteen year old high school students to intergalactic gladiators."
Chosen is the recipient of the 2012 NextTV Writing and Pitch Competition, a contest conducted by numerous TV and film executives. After receiving this honor, Paulino began editing his work to create the final product: "I spent 4 months of full time crazy writing finishing the first draft of Chosen then another year and a half adding the layers of details needed to make it the story it is today." While Chosen may be considered a science fiction novel, Paulino argues it is more than that: "It's about humanity and overcoming what seems insurmountable." Paulino credits Hamilton and his liberal arts education for assisting him in pursuing his goals: "Hamilton has had a hand in every part of this journey to get to this point."
In the fall of 2008, Paulino traveled to Los Angeles to begin work as an intern with Thomas Tull '92 and Legendary Pictures (Tull, founder and CEO of Legendary Pictures, is the speaker for the 2013 Commencement ceremony). "I figured out his e-mail and he wrote me back 20 minutes later. This was around the time The Dark Knight had become a runaway success. I got to work with his creative development people and read scripts, pilots, and source material. I learned that the business end wasn't for me but becoming a generator of this source material is my dream."
A year prior to beginning Chosen in 2011, Paulino committed his time to writing, composing various screen plays and original TV pilots. Paulino specifically highlights a pilot inspired by a Hamilton relationship: "One of them, an increasingly shopped around comedy called 'Talk to My Assistant' based on myself and one of my best friends out of Hamilton, Ryan Serhant. Ryan and I studied theatre together at Hamilton and I was the friend for many years that 'urged' him to get his real estate license." Serhant '06 currently stars on Bravo's Million Dollar Listing New York.
Hamilton's influence on Paulino repeatedly is evident within the novel. In the second half of the novel, Hamilton is a featured setting: "The world of Chosen is a compromised new world and my interpretation of what would happen at a secluded place like Hamilton. For example; for security reasons a New Continentals militia is formed by the school's President and Campus Safety officers." In addition, a pair of characters within Chosen are inspired by members of the Hamilton Community. "The fictitious Hamilton Alumni in my story are named Vladimir Berrios and Virginia Ann Russell, alluding to Vladimir Rodriguez, my long time Hamilton roommate, and director of Affinity Programs on the Hill, Mrs. Laurie Russell."
Paulino describes the publication of his first novel as "an all-out Hamilton venture." The cover art illustrator for Chosen is Thomas Booth '06; the first editor of the novel was a current Hamilton Student and Writing Center tutor, Abigail Saks '14, and Ricky Bottini of Meryl Lynch serves as Paulino's financial advisor and chief investor.
Paulino refers to Chosen as his proudest achievement to date. "I wrote it right after the passing of my father in the fall of 2011. It's a treasure hunt of influences from my favorite movies, television shows and books. Great art influences more art and I think the reason it's been so well received is how personal a journey Chosen reflects. It's a reflection of the many hardships, amazing times and unforgettable people that came my way so far from home. It's about how much you can learn about yourself by going beyond what anyone expects." Chosen is the first of a four-part series. Paulino is currently working on the second installment.
Paulino graduated from Hamilton College with a degree in theatre. He was a member of the Men's Football Team and La Vanguardia.