Jazz Archive Named for Milton '44 and Nikki Fillius
---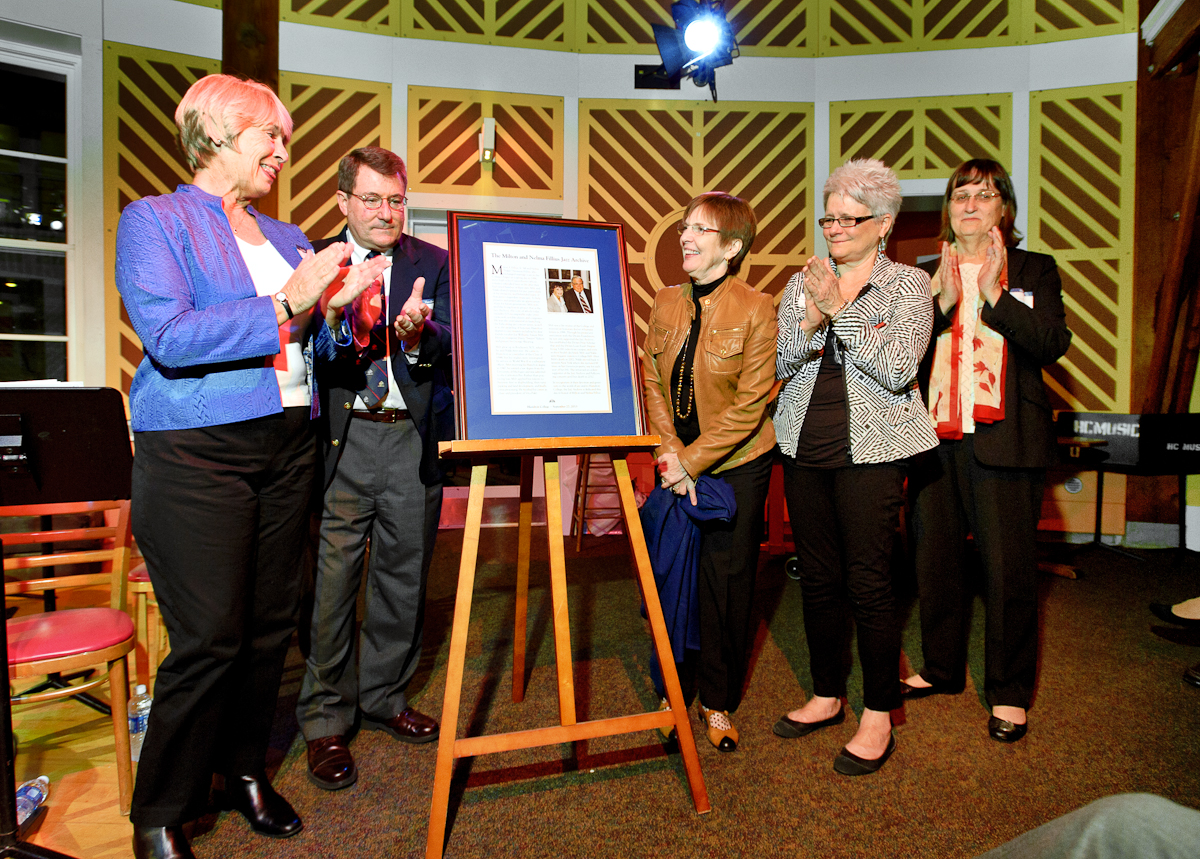 Among highlights of Fallcoming 2013 was the naming of the Hamilton College Jazz Archive in honor of Milton F. Fillius '44 and Nelma "Nikki" Fillius. The dedication took place during a performance of World Class Jazz at the Fillius Events Barn on Sept. 27.
Established in 1995, the Fillius Jazz Archive holds a collection of videotaped interviews with jazz musicians, arrangers, writers and critics.
In remarks at the dedication Hamilton President Joan Hinde Stewart noted that Milt Fillius recognized the need to preserve and perpetuate an appreciation of jazz among future generations. "He conceived of a permanent collection of recorded interviews with the musicians, arrangers, writers and critics who created, performed and nurtured this distinctly American music tradition," Stewart said. "In 1995, with generous support from the Joseph Drown Foundation, Milt made this resource a reality.
"It was a brilliant idea," Stewart added, "combining Milt's penchant for philanthropy, his passion for jazz and enthusiasm for Hamilton. The Jazz Archive simply would not have happened without his drive, enthusiasm and direction," she remarked.
The collection generally focuses on artists associated with mainstream jazz and the swing era. Former members of bands led by Count Basie, Duke Ellington, Woody Herman, Benny Goodman, Stan Kenton and the Dorsey brothers are well represented. Significant soloists and arrangers from small ensembles dating from the 1930s have also been interviewed.
The holdings are particularly viable for material pertaining to the learning process employed by young jazz musicians prior to the establishment of jazz education programs, and the realities of making a career in the jazz world. Other significant topics addressed include stories of life on the road and in the active New York City recording scene as well as racial relations (past and present) in jazz. Interviews with Oscar Peterson, George Shearing, Clark Terry and Milt Hinton were conducted by vocalist Joe Williams.
The interview collection has been fully transcribed and may be reviewed at the Fillius Jazz Archive in print, audiocassette and DVD. References to specific subject matter may be found via electronic query. Support material includes LPs, CDs, photographs, commercial jazz videos, books and memorabilia as well as a concert documentary filmed in 1996 at Hamilton College with Joe Williams and the Count Basie Orchestra.