A new Torah Ark for Hamilton
---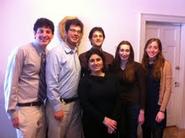 Ten years ago, Anat Guez came to Hamilton as an instructor of Hebrew. When she became the Jewish Chaplain on College Hill two-and-a-half years ago, she learned that the College's Torah was in storage. Desiring that the Torah, the Five Books of Moses that are the foundation of the Jewish faith and are believed to have been revealed by God, be kept in a more respectful place, Guez moved the scroll to her office on the third floor of the Chapel. She also had its cloth covering replaced.

The Torah is kept in Hamilton's Torah Ark, a cabinet that is designed to protect the scroll. The Hamilton Ark, which was donated to the College in 1984, is in disrepair and needs to be replaced. Guez believes that the Ark is in such bad condition that the College's Torah could be damaged. If it is, it could become non-kosher and unusable in religious services.

This academic year Guez, with support from Jean Miller Wilson K'73, P'09, began an effort to solicit gifts to purchase a new Torah Ark. Wilson, who has made numerous phone calls to encourage support for the project observed, "The enthusiastic Hillel presence on campus will be enhanced by building a new cabinet to house the Torah." She expressed gratitude for the enthusiasm that Bill Brower '84 and Ellen Rainey '87 of Communications and Development have shown for the project and for the support of Hamilton Chaplain Jeff McArn, and indicated that contributions have come from both Jewish and non-Jewish alumni and from parents. "I have received warm and positive responses from everyone I have spoken with," said Wilson. "We will surely celebrate at the dedication of a new Ark."

If you are interested in contributing to the Torah Ark project or to Hamilton Hillel, please contact Bill Brower '84 at wbrower@hamilton.edu or (315) 859-4027. If you'd like to make an online gift to support the project, please indicate "Torah Ark" in the comments or instructions box on the Make a Gift site. If you know someone who might be interested in the Torah Ark project or in learning more about Hillel at Hamilton, please forward this story.