Jeffrey Kingsley '96 to be Honored as One of Business First's 40 Under 40
---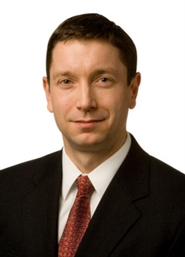 Business First selected Jeffrey Kingsley, Hamilton Class of 1996, as an honoree of its annual 40 Under 40 award.
Kingsley is a partner in the Global Insurance Services and Environmental Practice Groups of the Goldberg Segalla law firm. During his time there, he founded and currently edits Goldberg Segalla's Insurance and Reinsurance Report blog, which was named one of the top 50 blogs in the world by LexisNexis. He is also the founder and co-editor of Goldberg Segalla's Reinsurance Review. Through the implementation of such publications, Kingsley has helped the firm become one of the most reputable among domestic and international surveys, such as a No. 6 ranking in Reinsurance magazine's Power List of 2010, and a "Highly Commended" ranking in the "U.S. –Overall Leaders" category in the international publication Intelligent Insurer's 2013 "Legal Elite" survey.
Along with professional achievements, criteria for the 40 Under 40 award is for an individual who has exhibited active participation in improving the community. Residing in Western New York, Kingsley has been an outgoing and intimately involved member of the community through various volunteer roles. He is the founder of the Historic Williamsville Watermill Restoration Committee and has served as Chairperson since 2007. He also served as a Trustee for the Village of Williamsville, as a volunteer for the Susan G. Komen Race for the Cure, as a mentor and coach for the Bennett High School Law Magnet Program, and as treasurer for the SUNY Buffalo Law School Alumni Association G.O.L.D. Group.
The annual 40 Under 40 awards luncheon will be held on November 7 at the Buffalo Niagara Convention Center, where Kingsley and his fellow honorees will receive their awards. Additionally, the honorees will be featured in a special publication of Business First.
Kingsley received a degree in world politics from Hamilton in 1996, and followed it with law degree from SUNY Buffalo. While at Hamilton, he was a member of the men's soccer team.