Jenn Holderied-Webb '98 to Advise Hospitality Industry on Sustainability Best Practices
---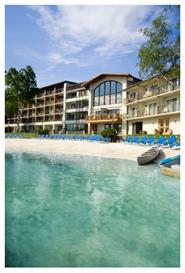 Jenn Holderied-Webb '98 has been appointed to the board of advisors of EcoRooms & EcoSuites, an online directory of environmentally responsible hotels, motels, inns and B&Bs. An article in Hotel & Motel Management (10/05/07) noted Holderied-Webb's appointment, referenced her "outstanding qualifications" and praised her role in managing the Golden Arrow Lakeside Resort, located in Lake Placid, N.Y.
After graduating from Hamilton and receiving her MBA from Northeastern University, Holderied-Webb returned home to Lake Placid to join her family in the operation of the resort, which has received a "3 leaves" rating from the Audubon Society for excellence in sustainable business practices.
The article credited Holderied-Webb's location in the Adirondacks with inspiring her interest in sustainable environmental practices, noting that, "the green policies she has implemented have already been a smashing success." Sustainability initiatives at the Golden Arrow include: using crushed limestone in the beach outside the hotel to offset the effects of acid rain, an in-room recycling program, and the installation of a green roof, utilizing plants and herbs, to further energy conservation efforts.
Noting the positive feedback the resort receives from guests, Holderied-Webb stated, "We are blessed to be located in such a beautiful location in the Adirondack Park. Both the hotel and our guests want to do everything we can to make sure future generations can continue to live and play here."