Jessica Gold Newman '01 Launches Dobbin Clothing
---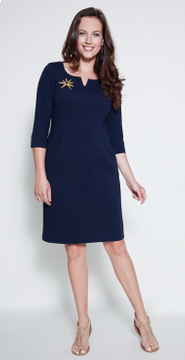 Jessica Gold Newman '01 has recently launched Dobbin Clothing with Catherine Doyle.
The company's name is inspired by the English word "dobbin," a workhorse, and Newman and Doyle would like their clothing to be the "workhorses of women's wardrobes." Their goal is to offer the types of clothing their friends and families have always wanted: a mix of classic and vintage silhouettes, manufactured in the United States and made of Italian fabric, and flattering for real bodies.
In the long term, Newman says, "We want to grow Dobbin carefully, and to continue to adhere to our devotion to fit, fabric, value and style. We want to listen carefully to our customers and to give them the product and the service they deserve. We also want Dobbin to be a brand that stands for real women of all ages and to have more brand-right content and community aspects over time."
Dobbin Clothing is sold exclusively online, with free shipping both ways in case customers need a different size. Spring 2012, launched in April, is their first collection.
Newman was previously director of marketing at Liz Lange Maternity. She started JG & Co. where she was a fashion business consultant and blogged about the industry at Truth Plus.
At Hamilton, Newman majored in women's studies and economics and was a member of the women's lacrosse team. During college, she traveled to Europe with a Fashion Institute of Technology summer program, where she was able to visit mills, factories, workshops, and ateliers.