Jim Hands '37: 90 Is the New 70
---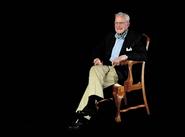 The New London Day, New London, CT interviewed Jim Hands '37 for their series "90 is the new 70." Hands shares many stories about his life, beginning with one explaining how he entered the fabric industry: he went to the mill of F. Schumacher & Co. in Paterson, NJ while on a job writing credit reports for Dun & Bradstreet and was asked if he could draw a chair with an intricate design. He drew the view from the window instead, but was offered a job and began learning the business of weaving. He later became vice president of the company. He designed curtains for the US Senate and the Metropolitan Opera, created fabrics for the Red Room, the Blue Room, and the Oval Office in the White House, and invented a fabric for the Boeing 707.

Hands shares his opinions on Frank Lloyd—a man he believes could only build leaky roofs—and William Carlos Williams, who lived in his town and contributed a poem to a book he once wrote. But more important to Hands than the celebrities with whom he occasionally associated is his family. Many of his stories feature his wife, Harriet, and his children and grandchildren.

Hands participated in football and track and field at Hamilton and belonged to Theta Delta Chi, but his experiences playing football were what altered his life attitude. He went from playing with a winning, well-funded (even in the midst of the Great Depression) team in high school to a struggling one at Hamilton. "It changed me, too," he says. "I got to like the guys I played with. We couldn't beat anybody, but their attitude toward everything in life ... football wasn't ... They wanted to win, but, you know, they wouldn't break lockers and kick stuff and bitch and scream. They wouldn't. And I all of a sudden found that I liked those guys." He learned a lot at Hamilton, from both classes and sports.

Read the full interview at: http://www.theday.com/article/20100928/NWS08/309289978/-1/NWS90thenew70.