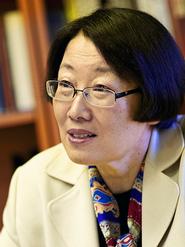 Hong Gang Jin, the William R. Kenan Professor of East Asian Languages and Literature, and director of the Associated Colleges in China program, presented a keynote lecture on April 19 at the 2014 Chinese Pedagogy Workshop for the Greater Washington, D.C., area.
In "The Role of Pushed Output in CFL Language Development," Jin presented three output-related issues in second language acquisition. The issues were addressed through discussions, demonstrations and group work.
The event, attended by some 150 professors and teachers of Chinese from five universities in Virginia, Maryland and the District of Columbia, was held at George Mason University.