Jin Presents at NCOLCTL Conference
---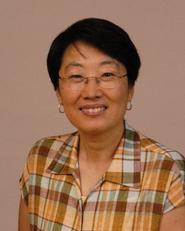 Hong Gang Jin, the William R. Kenan Professor of East Asian Languages and Literature, chaired and co-presented on a panel at the annual conference of National Council of Less Commonly Taught Languages (NCOLCTL) held April 8-10 in Madison, Wisc. Jin presented "Teacher Development Programs to Empower LCTL Teachers: Issues and Challenges" with colleagues from the University of Wisconsin-Milwaukee and Boston schools.
The panel used examples from different teacher development programs to discuss empowerment processes and provide ways to help teachers of less commonly taught languages overcome the challenges they face.
An immediate past president of the NCOLCTL, Jin also chaired a plenary speech session and participated in board meetings and the delegate assembly meeting with 18 member organizations.
According to the NCOLCTL website, the mission of the council is "to increase the number of Americans who choose to learn one or more of the less commonly taught languages (LCTLs) as a means of enhancing cross-cultural communication among citizens of the United States." LCTLs include any language other than English, German, French and Spanish.