Jin Presents, Chairs Panel
---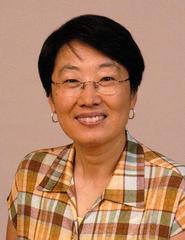 Hong Gang Jin, the William R. Kenan Professor of East Asian Languages and Literature and director of the Associated Colleges in China (ACC) program, presented her research on Nov. 22 at the annual conference of the American Council on the Teaching of Foreign Languages and the Chinese Language Teachers Association (ACTFL/CLTA) in Orlando, Fla.
The paper was presented as part of a panel on "Classroom-based CFL research: Corrective Feedback and Form-focused Instruction" that Jin organized and chaired.
"How CFL Learners' Perceptions of Corrective Feedback Impact CFL Development" reported on research Jin conducted with ACC Field Director Yin Zhang. The pair examined two important issues of corrective feedback (CF) in the context of learning Chinese as a foreign language (CFL): learners' perceptions of CF using a survey study of 63 students at three proficiency levels, and learners' ability to identify and categorize CFs through an empirical study of 16 advanced learners.
Jin also was an invited speaker at the University of Pennsylvania on Nov. 26 where she presented results of another study to Asian studies faculty.
In "Effects of Explicit and Implicit Corrective Feedback on the Development of Chinese Manner Complements," Jin discussed an empirical study that examined the impact of "explicit and implicit feedback on the development of Chinese manner complement structures in terms of noticing, restructuring, and pushed output."