Jin Presents on LCTL Panel
---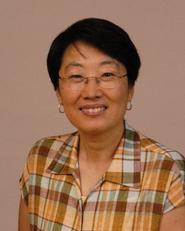 Hong Gang Jin, the William R. Kenan Professor of East Asian Languages and Literature and director of the Associated Colleges in China program, was an invited speaker at a conference held Sept. 23-24 in Washington, D.C. The conference was organized by the U.S. Department of Education's International and Foreign Language Education office.
Jin presented "Building Sustainable Programs for Less Commonly Taught Languages (LCTL): A Working Program Model for Undergraduate Students" as part of a panel on "Less Commonly Taught Languages (LCTLs): Offering and Sustaining LCTLs, Assessing and Reporting Language Proficiency in LCTLs."
She discussed the importance and challenges of building a sustainable LCTL program and focused on the "curricular planning, innovative instructional strategies and coherent programming over the entire four years of student's undergraduate study" required to develop such a program.
She presented a working model program with "clear institutional goals, a solid four-year curriculum, an experience-based study abroad program and a rigorous senior research project using the target language." Jin also discussed ensuring the long-term success and stability of the program "by diversifying program offerings and by establishing good partnership with different departments and institutions in the target country."