Jin Presents STARTALK Workshop
---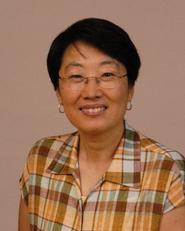 Hong Gang Jin, the William R. Kenan Professor of East Asian Languages & Literature and director of the Associated Colleges in China Program, was one of two guest speakers to present day-long workshops for the Chinese Language Teachers Association's STARTALK Program on Chinese Literacy. Her workshop, "Theories and practices of Chinese character learning and reading comprehension," was held July 15 at the College of the Holy Cross.
Jin focused on two aspects of Chinese literacy education – theories and research findings of Chinese literacy development and best practices of teaching Chinese literacy.
The goal of the workshop was to provide participants with an understanding of how text information is processed in the brain and how to identify factors that affect Chinese character recognition and processing as well as reading comprehension. In addition, workshop participants learned to use research-based pedagogical principles to design literacy curricula.