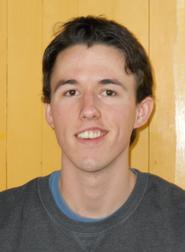 Joe Harmon '12 is fascinated with the culture of boxing—and he's certainly not alone; there is a mystique to the sport that has allured Americans for more than a century, and boxing has given birth to some of the biggest stars in the sporting world: Muhammad Ali, whose "Rumble in the Jungle" and Thrilla in Manila" still stand today as the most famous fights in history, and Jack Johnson, whose reign in the early 1900s sparked race riots around the country, are just two of the most notable. An Emerson grant recipient, Harmon will spend the summer studying "Filmic Interpretations of Boxing" with Visiting Professor of Film History Scott MacDonald.
Harmon explained that professional boxing used to have a much larger public presence—at the beginning of the 20th century, boxing was one of the top spectator sports in the country, third only to horse racing and baseball. Today, boxing's status as a popular professional sport has waned, yet it has managed to hold on to its cultural relevance; in fact, several award-winning films in the last decade—Cinderella Man (2005) and Million Dollar Baby (2004)—have centered on the sport, despite a seeming disinterest on the part of the public in professional boxing.
With his research, Harmon is trying to explore the "why" behind boxing's significance on the big screen. The Hollywood boxing culture is an entity that exists almost completely divorced from real world professional boxing, yet viewers easily find themselves entranced by boxing stories. "Boxing films are always about more than just boxing," Harmon explained. He is trying to locate any strands of continuity between the canon boxing films to find out what sets them apart from other types of film, so he has begun his exploration as one might expect—watching boxing films to acquaint himself with the genre and also reading philosophical and sociological scholarly works that deal with the ethics of sport.
Harmon says that he felt as though it would have biased his research if he had entered into this project with an analytical angle already in mind, so he is not sure of the exact direction in which his research will take him, but, he is already starting to see some commonalities emerge. He thinks that the grit and physical violence of boxing, as a sport, lends itself to metaphor very easily, and filmmakers have seized upon its accessibility to tackle salient sociological issues. Recurring themes that Harmon sees to be underlining boxing films, so far, have been race, nationality, gender, and socioeconomic inequality.
Harmon will be spending the next week as a participant in The Robert Flaherty Film Seminar at nearby Colgate University. The Flaherty is a non-profit organization whose mission, according to its website, is "to foster exploration, dialogue, and introspection about the art and craft of all forms of the moving image." Every year, the public is invited to participate in the Flaherty Film Seminar, where participants engage in critical discussions of non-fiction films. This year's seminar, "Sonic Youth," will explore the auditory dimension of film as a tool to affix with visual evidence. Harmon interned with The Flaherty in the spring, and he sees the seminar as an intensive experience that will help him to sharpen his critical lens.
Harmon likes to compare boxing to a dying language—it's a pastime that has faded from the public stage but has not lost any of its explosiveness as an arena, in film, in which to contextualize strong interpersonal tension. Although his research solely focuses on boxing, he says he is also interested collectively in athletics' representation in pop culture. "I think sporting in general is worth thinking about," he said. "Looking at sports as they are represented in pop culture or art is just a really valuable way of seeing how they fit in to our culture."
Harmon is a graduate of Phillips Exeter Academy.