John Kunkel '04 and Kevin Bourque '05 Develop the FaceGlove to Aid Skiers
---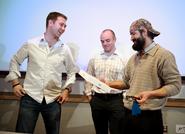 Founders of the Outeru Gear Company John Kunkel '04 and Kevin Bourque '05 have developed an innovative product in face protection known as FaceGlove. Instead of covering the whole face, the FaceGlove features a minimalist design that targets only the parts of the face most sensitive to frostbite and sunburn.

While working in a ski shop near Jackson Hole, Wyo., Bourque encountered a common problem amongst skiers who were dissatisfied with ski-masks. After countless prototypes, Bourque was able to successfully create a design that would protect only the parts of the face most sensitive to cold, frostbite, and sunburn without creating goggle fog or sacrificing the ability to breathe. It was then that Bourque contacted Kunkel, his former Hamilton roommate, who was experienced in business start-ups, to turn his product into a company.

In 2012, Bourque and Kunkel entered the second annual Hamilton Pitch Competition held on the Hill during Volunteer Weekend. Mark Kasdorf '06 organized the competition, first held in 2011, inviting students, alumni, and friends to propose their ideas for new businesses to a panel of judges. In considering the participants of the second annual competition, Kasdorf found the quality of the companies to be "amazingly higher" than the year before. "No, quality isn't quite the right word. It's the thought behind them. A lot of alumni have come back, and they're very serious about something. They've been thinking about it for weeks, or months, or even years, and they're using this weekend as the spark to do something about it."

Bourque and Kunkel clearly identified a problem that their product sought to solve, as Bourque spoke of his love for hiking and skiing and his struggle with skin cancer. The pair received $5,000 in legal services from Foley Hoag, an iPad 3, and key pitching and networking opportunities after winning the competition. Judge Michael Fawcett '66 explained the panel's criteria for selection, "The winner will be the one with the most effective pitch, which is not always the most interesting idea, it's about how you take an idea and expand it into a business and a success."

Since their award, Outeru has expanded with a mission to provide functional quality facemasks to customers around the world. Kunkel recently spoke of the company' gratitude and growth since the competition, "The feedback has been fantastic and we are very excited about our future - we owe a lot to Hamilton on many levels and wouldn't have been able to get where we are without the college's support."

At Hamilton, Bourque participated on the ski team and choir, while Kunkel was a member of the men's baseball team. The founders of the Outeru Gear Company were both members of the Chi Psi Fraternity.