John Murad, Jr. '80 on Board of Directors
---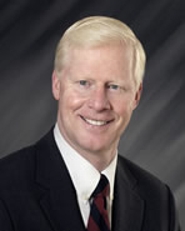 John L. Murad, Jr. '80 was recently appointed to SUNY Upstate Medical Foundation's Board of Directors. Founded in 1976 as a 501(c)3 not-for-profit corporation, the Upstate Medical University Foundation provides different avenues of receipt for private contributions.

Murad is a partner in the Litigation Practice at Hancock Estabrook, LLP, and a member of the Firm's Executive Committee. He also serves as a member of the State University of New York Board of Trustees, where he chairs its Academic Medical Centers and Hospitals Committee. He was named to Best Lawyers in 2010 and 2011and to New York Super Lawyers in 2007, 2008, 2009 and 2011.

At Hamilton, Murad was a member, and President, of Chi Psi. He majored in Government and History and graduated cum laude and went on to earn his Juris Doctor from Georgetown University in 1983. Murad is married to Renee L. James. They reside with their three children, Matt, Bess, and Patrick in Jamesville, NY.