Jon Bon Jovi to Give Benefit Concert for Hamilton College
---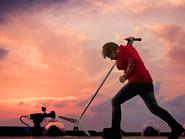 The entertainer that Forbes ranked as the most charitable celebrity in 2011 will give a benefit concert for the alumni, parents and friends of Hamilton College.

Jon Bon Jovi and The Kings of Suburbia will perform on Wednesday, Dec. 5, at the Best Buy Theater in New York's Times Square. Attendees can expect to hear Jon Bon Jovi hits, as well as classic rock and roll songs. The evening will feature an eclectic set list performed by one of America's most popular singer-songwriters.
Tickets are available for purchase on the Hamilton website. More information is available at www.hamilton.edu/jbj. All proceeds from the concert will support student scholarships and the theatre and studio arts facilities currently under construction on the Hamilton campus.
The Best Buy Theater is an intimate venue for a concert of this magnitude. Fewer than 1,200 tickets will be sold.
Jon Bon Jovi has set the bar for nearly three decades as one of the world's most successful musicians. Globally, Jon's Grammy-winning band Bon Jovi has sold over 130 million albums, consistently delivered #1 albums and Top Ten hits, and performed more than 2,600 concerts in over 50 countries for upwards of 34 million fans.
The Forbes ranking of most charitable celebrities is based on a calculation that measures "those who use the greatest percentage of their fame to generate good." In addition to Jon Bon Jovi, the top five include Paul McCartney, U2, Leonardo DiCaprio and Elton John.
The Jon Bon Jovi Soul Foundation "exists to combat issues that force families and individuals into economic despair," according to the organization's website. "Through the funding and creation of programs and partnerships, [the organization supports] innovative community efforts to break the cycle of poverty and homelessness."
JBJ Soul Kitchen, a program of the Jon Bon Jovi Soul Foundation, is a community restaurant in Red Bank, N.J. where patrons make a minimum donation to pay for their meals, and those unable to donate volunteer as payment. Soul Kitchen serves healthy, nutritious and, when possible, organic, three-course meals.
Although the Hamilton concert is intended for alumni, parents and those affiliated with the college, members of the extended Hamilton community are welcome to bring friends to the event. Since this concert benefits student scholarships and new arts facilities at the college, a portion of the price for each ticket provides a significant charitable deduction for the attendee.