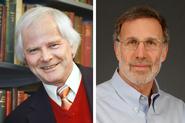 Derek Jones, the Irma M. and Robert D. Morris Professor of Economics, and Associate Professor of Economics Jeff Pliskin recently attended the 17th Conference of the International Association for the Economics of Participation (IAFEP). The conference was hosted by the Instituto de Economía Facultad de Ciencias Económicas y de Administración at the Universidad de la República in Montevideo, Uruguay.
Jones and Pliskin presented during a session on "Democratic governance, employment and development." Matthew Poterba '12 was their co-author on "Employment Adjustment to Output Shocks at U.S. Banks and Credit Unions." The paper presented results of the authors' study of data from 1999-2010 that provided "the first evidence of how U.S. commercial banks and credit unions adjust their employment levels to output shocks."
Jones also presented "Performance Pay and Wage Inequality: Evidence from Finland" during a session on "Worker participation, selection and wage inequality." In the paper, Jones and his co-authors, Takao Kato from Colgate University and Mikko Mäkinen of the Aalto University School of Business, presented results of research in which they used linked employee-employer panel data from Finland to study wage inequality. Pliskin chaired the session.
In addition, Jones chaired a session titled "Labor-managed firms and workers' participation in transition economies."