Jones and Pliskin Publish Paper
---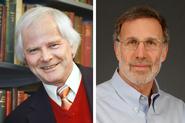 Derek Jones, the Irma M. and Robert D. Morris Professor of Economics, and Associate Professor of Economics Jeff Pliskin co-authored a paper published in Advances in the Economic Analysis of Participatory & Labor-Managed Firms, 2013. The paper appears in Volume 14, "Sharing Ownership, Profits, and Decision-Making in the 21st Century," edited by Doug Kruse.
"Information Technology and High Performance Workplace Practices: Evidence on their Incidence from Upstate New York Establishments" focuses on "the nature and the determinants of the incidence and diffusion of a range of new technologies."

Using newly-collected data for medium-sized establishments in Upstate and Central New York, the authors found "that the use of new technologies tends to be more extensive in firms in which greater use is made of flexible work practices and flexible compensation practices and when skill levels are high."
Jones and Pliskin also reported mixed evidence to support their "digital divide hypothesis" that predicts that the use of new technologies would be greatest in metropolitan areas and least in rural locations.